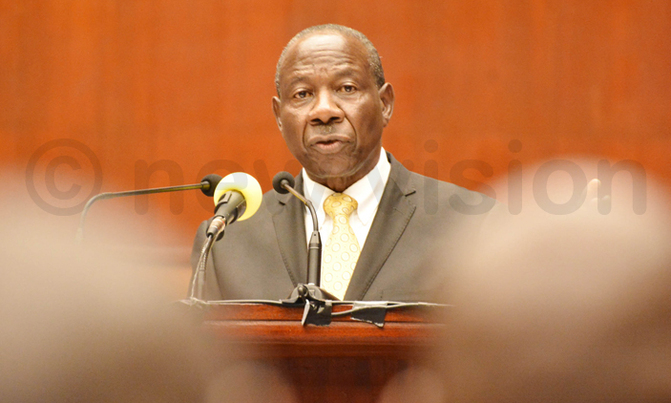 This was in the 2017/18 budget speech that the finance minister read
Construction of an international airport in Kabaale, Hoima is to commence in the next financial year, Finance Minister Matia Kasaija has said.
He cited this as one of the related infrastructure development activities meant to facilitate oil production.
This was in the budget speech Kasaija read on behalf of President Yoweri Museveni.
Other activities he cited were rehabilitation of the Tororo-Pakwach Railway Meter Gauge line to support delivery of equipment for oil production; and the development of Pakwach-Butiaba ferry/barge as well as upgrading road infrastructure.
On the oil and gas sector, he said that 98% of land acquisition for the oil refinery has been completed and that Government is in the process of selecting a lead investor to partner with in the development of the refinery.
He said that Government, in agreement with the Government of Tanzania, selected the Hoima-Tanga route as the route to transport Uganda's crude oil to the East African coast.
"An Inter-Governmental Agreement has just been signed to support the private sector in the development of the oil pipeline. In addition, a total of nine production licenses have been granted and further licenses will be granted as soon as assessments are completed.
The design for bulk storage of final petroleum products at Buloba has been completed," he said.
On minerals, Kasaija revealed that during the year, there was significant private investment in the minerals sub-sector.
He cited a gold refinery set up in Entebbe to refine gold to 99.9% purity, a tin processing plant producing 150 tons of processed tin concentrate per month established in Kikagati, Isingiro and high quality marble tiles being produced in Bugolobi, Kampala among other investments.
He revealed that review of the regulatory framework of the mineral sub-sector is one of the activities that will be implemented starting next financial year and the medium term; promoting mineral exploration, development, production and value addition as well as fully equipping a modern minerals laboratory for testing the quality of minerals.