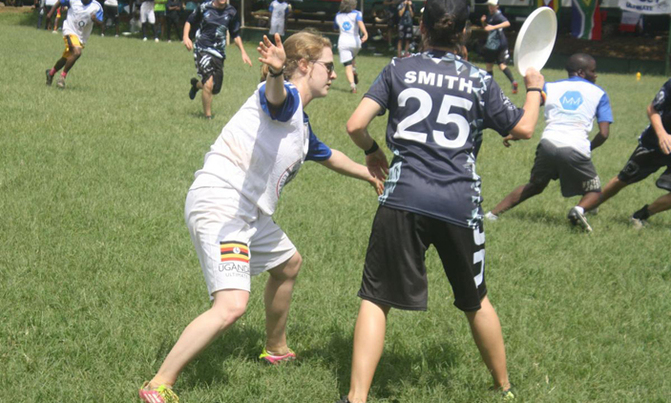 Entebbe Ultimate will be remembered for their energy in the highly riveting tournament
All Africa Ultimate Club Championships
The second edition of the All Africa Ultimate Club Championships that ended over the weekend at Rosslyn Academy in Kenya heralded the beginning of something special for Ugandan Clubs and the game of Frisbee as a whole on the continent.
Uganda was the most represented country in terms of team entries, a statistic that is a bit telling of how enthusiastic a section of people in Uganda have been to this rather exciting game.
Three teams Magum Opus, Impala and Entebbe Ultimate made not just numbers but a fair challenge in the midst of elite clubs from South Africa; UCT Tigers and Ghost Ultimate. The former beat the latter 7-8 to clinch the championships.
Kenya and South Africa followed with two representatives each; Kisumu Ultimate and Nairobi Ultimate, UCT Tigers and Ghost Ultimate respectively.
Impala Ultimate led the way for the Ugandan contingent and certainly a bronze did come at a cost.
Their spirited fight in a nail biting third placement game against a headstrong Kisumu Ultimate created one of the memories in the ten team championships.
Umar Katumba and co. displayed courage, playing catch up to scoop the victory with a crucial point separating the two sides (9-8) in the dying moments of the game.
The game left Kisumu with wounded egos after failing to beat Impala for the second time in the championships.
Similarly Magnum Opus and Entebbe had their moments in the sun.
Jane Gakuru's Magnum Opus reigned supreme over the champions (7-4) in the early fixtures of the round robin which was a translation of the tactical prowess of the team from Ishaka which capitalized on long throws to suppress an attack minded UCT Tigers.
Nick Handler, Jamil Kisubi and Moses Zia worked hard to kill their opponents' work plan.
Entebbe Ultimate will be remembered for their energy in the highly riveting tournament.
They had a number of close games and despite losing them their act suggests they are among the ones for the future. They lost 9-8 to magnum, 8-6 to Nairobi, 7-6 to Ghost Ultimate.
In the development side of the sport, there was a milestone that was reached with the launch of the All Africa Flying Disc Federation, a new regional body that will govern the sport in the region and Alex Matovu, a veteran Frisbee player in Uganda is seating at the helm of the federation; a reason to cause excitement for Ugandans.
The graduation from just clubs within East Africa to the inception of major clubs across the continent means things can only get better for the game of Frisbee in Africa.
With a lot more activations in store, someone ought to sit back and reflect on what was achieved by the three Ugandan sides in the All Africa Ultimate Club Championships.
Selected results
Final
UCT Tigers 8 Ghost Ultimate 7
Semifinals
UCT Tigers 9 Impala 5
Kisumu 8 Ghost Ultimate 11

3rd Place
Impala 9 Kisumu 8