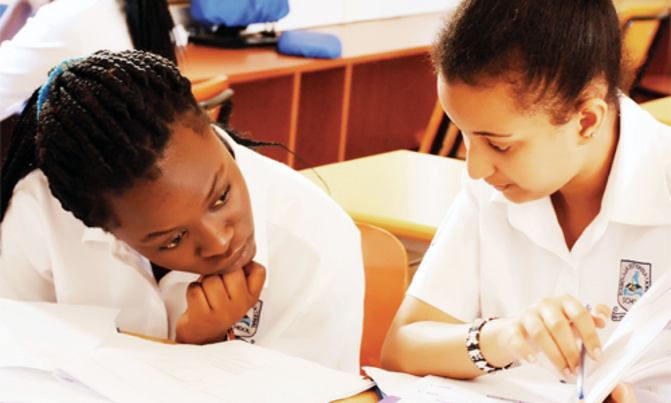 International schools guide
The International Baccaleurate, American School curriculum, English national curriculum and many more; is an endless list of curricula offered in the fastgrowing market of international schools.
Unlike in the past when international schools were a preserve of diplomats and expatriates, the local population has embraced these schools with an estimated enrolment share of up to 800/0.
It is not just the elite, but also the rich and most times not highly educated folks. opting for international schools.
'"Today. international schools are the aspiration of the growing middle-classes of developing economies that are the key drivers of growth within the sector," states the World Educfltion News and Reviews.
"They have transfonned the market from a largely non-profit model to one that is predominantly for profit and teaching a curriculum with an international focus as opposed to that of a particular nation," adds the review.
Demand is sharped by inrome dimensions and for the growing middle and business class, it is no longer just about a schooL but what it can offer.
In Uganda, the education ministry could hardly avail New Vision with a list of international schools or even statistics. The biggest question, however, is; are international schools worth the millions parents dole out every year for their children's education?
The cost of educating a child at an international school varies considerably, depending on location of the school. facilities, academic programmes and its ownership.
There is a massive difference in the fees charged in each of the schools in the country. However, averagely schools charge about sb24m to sh40m annually.
Most of the time, the higher the class a child gets to, the higher the cost; for most international schools' tuition levies.
In comparison to private and local schools in Uganda, the most expensive may charge about sh6m a year. The cheapest and good private schools may charge about shI.5m a year. CLICK HERE FOR MORE ON THIS STORY
How to guarantee fees for your child
By Billy Rwothungeyo
A child's education is more than a short-term expense of every term or academic year.
It is a long-term commitment that can stretch over 12 or even 20 years, considering the education journey a child takes.
Financing such an investment can be a daunting task for most parents, even those who are well-off. The cost of educating a child in an international school in Uganda is high, basing on the average fees payments for most of the parents.
"This is the more reason why you should insure your child's education for it to be affordable to educate your child even when you are not able to," says Patrick Mugume, a parenting counsellor.
In most international schools in Uganda, the higher the class a child is in, the higher the fees. Most international schools charge about sh24m to sh40m annually.
So do you have a child in an international school? Have you insured their education yet? If you have not yet done so, the time to act is now. Like many Ugandans, insurance was just another one of those subjects that Stella Pacutho never really paid serious attention to.
The tragic demise of a workmate in a road accident, leaving behind two small school-going children, changed her mindset.
"That experience changed the way I look at life. You just cannot know what will happen tomorrow, that is why I have ensured my son's education," she says.
Why insure?
A child's education policy is a life insurance product that enables one to save so that in the future, their child's university fees are catered for.
Some of these policies are designed in such a way that in the unfortunate event of a parent or guardian's death or disability, the child will get a lumpsum compensation amount which can take them through their higher education.
A number of insurance companies in Uganda have education-tailored policies. Having a finance plan in place is a necessity. But how then are you prepared for this? This is when the issue of education insurance comes into play.
Should you ever become severely ill or disabled, or die, education insurance can continue your investment on your behalf, providing for your child's education both locally and internationally and helping to give them the best start in life.
Isaac Okuku, an insurer with one of the insurance firms in Kampala, lists the advantages of insurance.
"Insurance covers risks or unforeseen circumstances. Education as an investment comes at a cost. Worse still, schools that perform well charge higher rates, making it hard for those who cannot afford the school fees to join," he explains.
There is a notion among some Ugandans that insurance is for only rich people and that many people cannot afford it. Okuku says that is not true and that every parent can afford to take out an education insurance policy for their child.
"That is the reason why insurance companies have come up with educational policies to enable even the low income-earners afford to send their children to good schools. The advantage is that even with death or disability of parent, the child is assured of education," he says.
An insurer with one of the insurance players says education policies cover two people — the policy holder, in this cases the parent or guardian, and the child.
ADVERTISER
Security: You just can't ignore it
By Owen Wagabaza and Conan Businge
A safe learning environment is crucial for every child. When violence is part of the educational setting, it affects the students' learning.
Even though your child may not be the victim of violence in school, there is chance that he or she will witness violent acts during the educational years.
Simon Mulongo, a security expert with Emans Frontiers Limited, says: "Children in international schools may be more prone to violence than those in other schools, the reason why every school must take security seriously."
"Most of the children in these schools are from well-to-do families including those of diplomats, expatriates and top government officials and are at times key targets to be a reason why the schools have to be securityconscious," Mulongo says.
"International schools need serious security firms, highly trained guards, high and strong perimeter fences, closed-circuit cameras (CCTV) and a good operational relationship with security agencies near them," Mulongo advises.
Yasin Yakut, the principal of Galaxy International School, says all educational institution need elaborate security plans.
"We all need security experts to periodically review our schools, to ensure they are safe before we admit students," he says.
Mulongo says a security plan should be about assessing both the human and non-human security threats.
"Schools need to hire security agencies or get security personnel; such as the army, intelligence or Police to help them draw up security plans," he advises.
Human threats may include terrorism, kidnapping and vandalism. non-human attacks may include floods and fire. Mulongo says the security of the school should go beyond its premises.
One needs to plan against hijacking, accidents and other threats. "Children and staff should also be taught how to fight back incase they are threatened," he adds.
In this era of global terrorism, safety in crowded places is paramount, especially when it comes to international schools with a broader link to the international community. CLICK HERE FOR MORE ON THIS STORY
ADVERTISER
INTERNATIONAL SCHOOL OF UGANDA