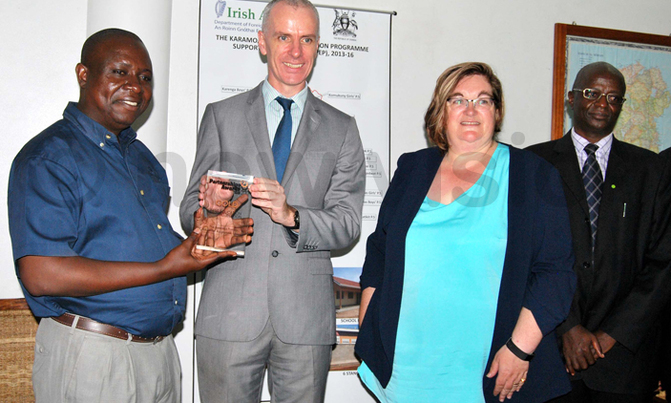 KPEP which was funded by Irish Aid among others saw the rehabilitation and upgrading of 21 primary schools in Karamoja region
The Karamoja Primary Education Program (KPEP) has won the Global Partnership Award (GPA) for being the best education project in the world.
KPEP was chosen for the Gold Award, from a shortlist including education projects from France and the United Kingdom. Over 100 entries from leading organisations and projects across Europe, Africa, Middle East, and Asia participated.
The GPA is the largest event reorganizing and rewarding the best in Public-Private Partnership (PPP) projects. The awards event was held in London last month.
KPEP which was funded by the Irish Aid and managed by Deloitte Uganda in partnership with the Ministry of Education and Sports, Pro-Pan Partners and Turner & Townsend saw the rehabilitation and upgrading of 21 primary schools in Karamoja region.
On Monday, the award was presented to the Irish Ambassador to Uganda Donal Cronin at his office along Yusuf Lule Road in Kampala.
"This is a fantastic global recognition for the innovative and responsive way in which the program was managed and implemented, delivering top class facilities for the Karamoja region," Cronin said.
He revealed that Karamoja has a lot of potential for development and the only people developing it are the Karamojong.
Over 17,000 pupils are benefiting from the KPEP project in the 21 schools. It is expected that the total new enrolment in these schools will increase by about 30% to about 22,470 in the next 4 years, and Karamoja will thus realize the goal of increasing access to primary education.
The KPEP project infrastructure developed included teacher's housing, dormitories, classrooms and sanitation facilities.
Support also included the provision of furniture and instructional materials. Environmental conservation measures such as rainwater harvesting (590,000 litres total) and tree planting (630 trees total) were other activities supported by the programme.
The programme, which ran from 2013 to 2016, cost about sh52b.
Musa Birungi, the senior education officer at the Ministry of Education, says the project has already registered improvement in enrolment.
"During the first week of the term, it is only these schools where children were studying. Karamoja has more than 200 schools and children still walking over 30 kilometres to school. We need to support towards education the region," Birungi said.
Geoffrey Mugisha, from Deloitte Uganda says the KPEP project has improved sanitation and hygiene, security at these schools, agriculture, and enrolment among others.