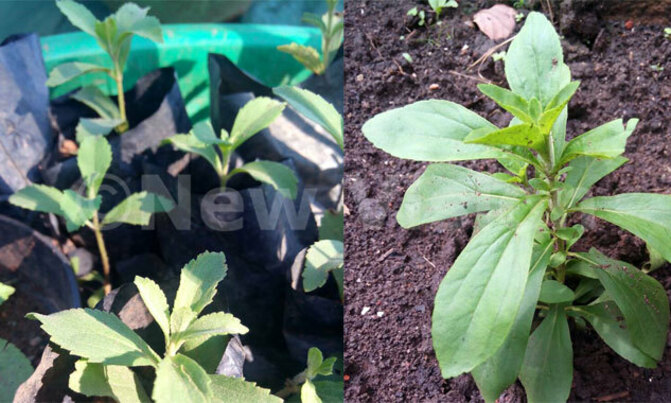 Even if you don't have a passion for gardening, you can grow stevia in any space you have.
Have you ever imagined growing your own sugar!

With the escalating sugar prices, a plant called stevia comes in handy.

Even if you don't have a passion for gardening, you can grow stevia in any space you have.

According to Ronnie Atuhereza Amooti, a gardener with Go Green Uganda, located in Muyenga, a Kampala suburb, stevia is a calories free natural sweetener, thanks to glycoside compounds like sativoside and rebaudiosides it contains.

It is therefore a perfect organic substitute for table sugar.

Stevia can be used in beverages, tea, confectionary, sauce and soft drinks.

Its extracts can be added to jam, yoghurt and also to sweeten bitter medicine.

Drake Kizito, another gardener with Superior landscapes in Nsambya, a Kampala suburb urges that stevia, once grown and harvested well; it tastes 200-300 times more than the table sugar.

Across the world, many people have embraced stevia because of its health benefits like having low calories and restricted carbohydrates.

Why you should own stevia

Dr. Yesero Mugume of Saidina Medical centres explains that since stevia doesn't affect blood glucose or insulin response, it's a significant guard against diabetes.

He adds that stevia also guards the pancreas against cancer because of the many antioxidant compounds like chromogenic acid and insosteviol that reduce the pancreas' cancer risk.

"If regularly consumed, stevia has cardiologic actions that normalize blood pressure and regulates heart beat," he affirms.

Since increased blood sugars, obesity among others are attributed to table sugar consumption, stevia comes in handy to check weight gain.

It has also been urged that regular use of stevia helps to fight bad breath, wound infections, to strengthen the gums and boost immunity.

How to grow stevia

Atuhereza says that stevia is a perennial plant much as many consider it an annual crop.

"It grows better in warm, sunny climate and loves to be cared for," he asserts

For it to flourish, stevia requires well drained fertile soils and for more sweetness, plant it in a direction of more sunlight.

According to Kizito, unlike many plants that need much space to grow, stevia can be grown in pots on the balcony, patio or verandah.

"Make sure the pot has holes at the bottom and add some sandy soils for good drainage," he opines.

Plant them in rows, 20-24 inches apart and let them grow to a height of about 30 inches and a width of 18-24 inches before you harvest.

Kizito is of a view that since stevia plants have feeder roots that are close to the surface, always add manure for protection and regulate watering.

When they are ready, you can pluck off the leaves and add to your tea or decide to dry them under sufficient sunlight before crushing the leaves to get stevia powder.

"Stevia can also be propagated with seedlings or fresh cuttings. However, seedlings are rare in Uganda," he notes.

He adds that in order to ensure flourishing plants, stevia needs a lot of care. Always remove the flower buds because even if you leave it to flower and produce seeds, they have minimal chances of surviving to grow back.