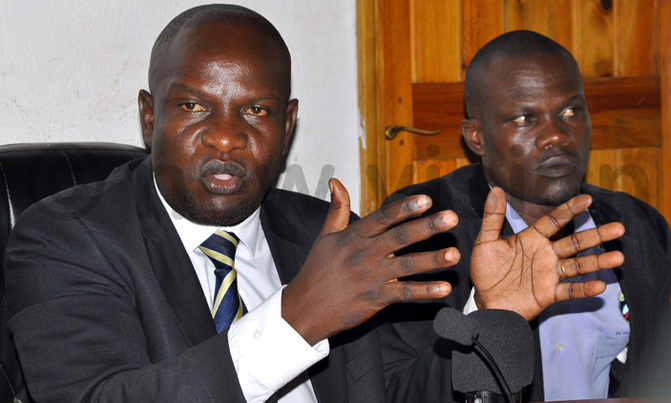 Dr Kizza Besigye the FDC candidate garnered 3,270,290 votes
Forum for Democratic Change (FDC) party is set to hold a countrywide dialogue to review the party's weakness and performance in the February 2016 general elections.
The party's deputy spokesperson Paul Mwiru also former Jinja Municipality MP said the aim is to find out where the party went wrong, its weaknesses and strength which will help members lay strong strategies to win the 2021 general elections.
Mwiru said the party will hold regional retreats countrywide starting Thursday in the West Nile region (Arua district) followed by Buganda and Eastern regions. He said they started with Ankole last month.
"We have challenged party members to embrace and entrench evaluating the party performance culture, to prepare for the next general elections come 2021," Mwiru said while addressing the party's weekly press briefing at Najjanankumbi on Monday.
In the February 2016 polls, Dr Kizza Besigye the FDC candidate garnered 3,270,290 votes, over two million votes less than President Yoweri Museveni who won with 60.7%.
The 10th Parliament is composed of a total of 449 legislators and of those, National Resistance Movement (NRM) has 298 MPs, 66 are independents, FDC has 36, Democratic Party (DP) has 15, while Uganda People's Congress (UPC) has 6 members.
He said FDC's aim is to win the general elections through peaceful means to take over power from the NRM.
Mwiru was flanked by Rajab Kaaya the national vice chairman in charge of Buganda, Hamidha Nassimbwa, chairperson of the women league for Buganda region and national youth chairperson for Buganda region, Waridi Mulindwa among others
Mwiru said the party wants to evaluate its strength where it won in the general election and why it has failed to capture power.
"The party wants to develop values; whether it is general elections or by-elections, the party members want to conduct such dialogue to build a party trend to evaluate ourselves, do analysis of where we had strengths and weaknesses to fore see the future generations," Mwiru pointed out.
He also disclosed that FDC has fronted two candidates; Apollo Katinti to contest the Kyadondo East by-election in Wakiso district, and John Arumadri for the Upper Madi-Okollo County seat which fell vacant after the Court of Appeal threw out the MP, Isaac Etuka last April.