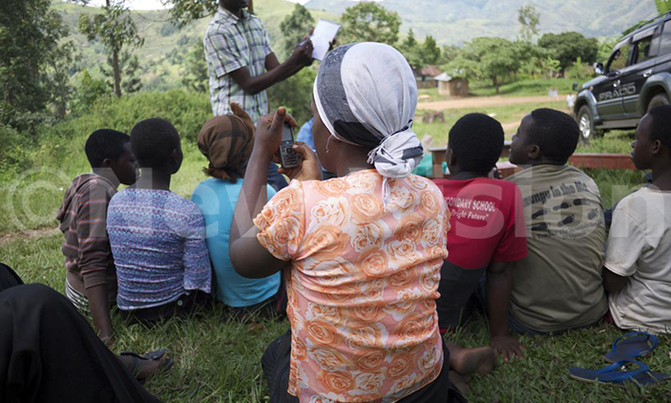 According to Mwesigye, the platform is a ground breaking innovation for farmers all over the world.
After hearing that watermelon farming is very profitable, Balam Mwesigye of Kayunga wasted no time to venture into the growing of the juicy fruit. He gave the farm his all, including irrigating and spraying against pesticides, and as expected, the harvests were bumper, the only challenge was where to sell the water melon.
"I was stuck with my water melon, and because they are perishable, I was about to lose millions of money, but a friend told me to sign up on We-farm and ask for market for my watermelon, within five minutes, I had received four buyers interested in my goods with competitive prices moreover,"Mwesigye says.
According to Mwesigye, the platform is a ground breaking innovation for farmers all over the world.
Samalie Ndawula from Masaka says the platform helped her overcome the challenge of fake drugs. "Fake drugs were leaving me in losses, yet I could not differentiate between genuine and fake drugs, but when I asked members on how I can differentiate between the fake and genuine FenvaStar EcoCap or Bifen IT for ticks, I got very helpful answers and I have never been duped again," she says.
WeFarm continues to take Africa by storm. The AgriTech platform that launched in Uganda in December 2015 with the main aim of getting vital information to small-scale farmers by SMS now has over 50,000 farmers as users.
"In our first week of operation here in Uganda, 1,300 farmers signed up on our platform to share vital agriculture information," says Fhiwa Ndou, the Country Director, We Farm Uganda.
Kenny Ewan, the founder and Chief Executive Officer of WeFarm International who was in Uganda recently to see how his brainchild is impacting agriculture in Uganda, says the Agri-tech platform's main vision is set on becoming a large global phenomenon that helps farmers share information.
"There are 500 million smallholder farmers in the world, most of whom live on less than $1 a day. Small-scale farmers are highly vulnerable to the effects of climate change and they face many challenges including lack of access to traditional markets, agricultural inputs and finance," says Ewan.
"Interestingly, every day small-scale farmers develop a diverse range of innovative, low-cost solutions in response to the many challenges that they face. But with the majority of farmers living in remote areas without internet access, they cannot share this information with other farmers, and this is what WeFarm is addressing" Ewan explains.
Justus Byarugaba, the programme Manager of We Farm Uganda says the platform is tailored for all types of farmers including the rural poor.
"You don't need internet to access wefarm and this is important. Farmers anywhere are able to ask questions about agriculture by SMS and receive multiple answers to their questions from both fellow farmers who are willing to share their experiences as well as experts,"says Byarugaba.
"We also use our platform to influence policies and debate from both the government and civil societies by looking at the questions dominating the platform from a certain area or region. If farmers are talking more about a new pest, drought or the lack of markets, we inform the stakeholders so that they can intervene if possible," Kenny Ewan adds.
How WeFarm Works
We Farm is a free peer-to-peer service that enables farmers to share information via SMS, without the internet and without having to leave their farm. Farmers can ask questions on farming and receive crowd-sourced answers from other farmers around the world in minutes.
If a certain crop is suffering from a disease for example, all you need is to send a simple, free SMS to the local WeFarm number which is 6333 for Uganda. The question is instantly posted online and sent to selected members of the WeFarm community via SMS. The user/sender is able to receive useful, relevant knowledge within minutes without leaving his/her farm or having any access to internet.