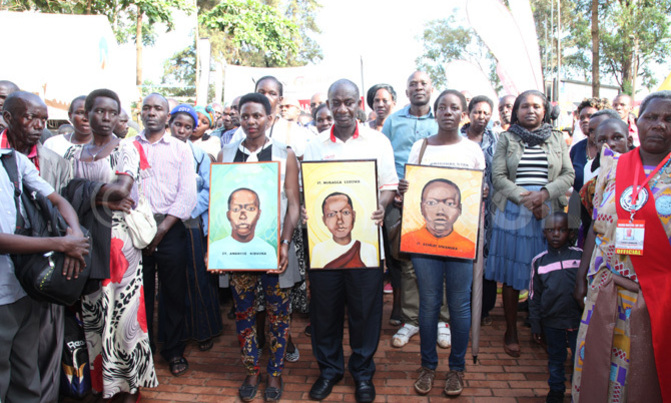 While singing songs, the New Vision Pilgrims reached Namugongo at around 4:30pm and mass started at exactly 5:00pm.
Over 60 Vision Group staff, on Thursday joined the rest of the pilgrims to Namugongo Martyrs Shrine ahead of the June 3, Martyrs Day Celebrations.

Led by the company Deputy Chief Executive Officer Gervase Ndyanabo, Vision staff started their trek to the holy place at 2:00pm.

From their office in Industrial Area, they walked through Nakawa, Kireka to Namugongo road up to the shrine, covering a distance of about 15kilometer.

While singing songs, the New Vision Pilgrims reached Namugongo at around 4:30pm and mass started at exactly 5:00pm.

Prof. Fr. John Chrysostom Maviiri, the Vice-Chancellor (VC) of Uganda Martyrs University (UMU), Nkozi, led the mass with a call on Ugandans, especially Journalists to always be truthful.

"As journalists you have a challenge to write the truth in your stories. Even if it means death, write the truth," Maviri said.

The days' celebration was dedicated to intercede for Saints Ambrose Kibuka, Mugaga Lubowa and Achilles Kiwanuka.

Pilgrims from all over the world have flocked to Namugongo to pay their respects and renew their faith by paying pilgrimage to the martyrs on June 3.

During pilgrimage, pilgrims recite the rosary and novena and beseech the names of the Martyrs to intercede for them in overcoming the challenges they face in their daily.

In his speech, Ndyanabo challenged Journalists to reflect on Father Maviiri's preaching and focus on the truth.

"At Vision Group, we strive to always tell the truth, but there are always challenges from people with power, money and other influences. As journalists, those challenges, compared to what the martyrs went through, are few," he said.

He commended Namugongo Martyrs for inviting Vision Group to be part of the celebrations and said they are always ready to support the celebrations.

Joseph Lwanga, the New Vision Circulation manager and chairperson of the Catholic Community, said the New Vision staff pilgrimage is a faith walk, to honor Uganda Martyrs.

"Pilgrimage is mandatory for every Christian; we are fulfilling our Christian obligation. Also as staff we are practicing our faith and doing evangelism," Lwanga said.

This is the third year in a row Vision Group staff is making pilgrimage to Namugongo.

Saint Achilles Kiwanuka is a patron for the media and therefore it was befitting for Journalists from New Vision and other media houses to take part, according to Father Maviri.