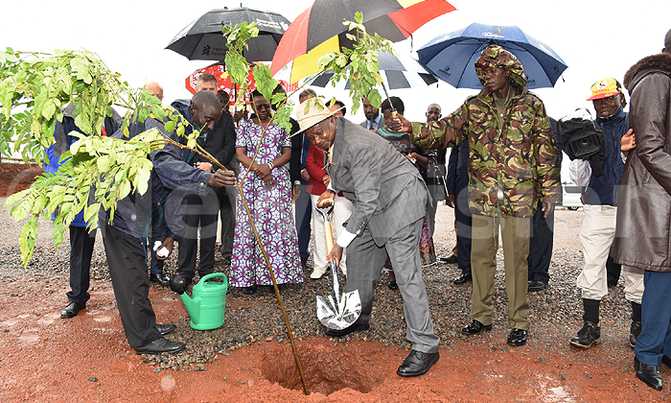 The new hospital will be built on 30 acres of land and will initially operate as a 264-bed facility.
HEALTH

LUBOWA - President Yoweri Museveni has launched works on a $250m (sh890b) International Specialized Hospital to be located in Lubowa, on the fringes of Kampala city.

The facility will ensure that Ugandans will no longer have to travel abroad for organ transplant or brain, heart surgery and cancer treatment.

The new hospital will be built on 30 acres of land and will initially operate as a 264-bed facility, with ultra-modern health facilities, health officials disclosed.
An artistic impression of the new facility. (Credit: Richard Sanya)
Architect Massimo Roj showing President Museveni the artistic impression of the hospital. (Credit: Richard Sanya)

Museveni said the high end medical facility would significantly cut the expenses incurred by Ugandans for treatment abroad and promote Uganda as a medical tourism destination.

"The establishment of this hospital will cut costs of $186m that Ugandans incur to go to China and India for complicated cases," he said, describing the expenses as a free donation which should be eliminated.

Finasi, an Italian firm will build the multi-million health facility with funding from a consortium of banks under a public-private-partnership arrangement.

The facility will serve as a key referral centre for not only Uganda but the entire region. It will be the first in East Africa to have a state-of-the-art facility for nuclear medicine.

Construction of the facility will take 24 months. Thereafter, a team of Italian specialists will run the health facility for 10 years and hand it over to the government of Uganda.

Finasi is to start training Ugandan nurses and doctors, as construction starts, according to Dr Diana Atwine, the health ministry's permanent secretary.

Museveni tasked the Attorney General and relevant government departments to finalise the law regulating organ transplant operations, which will be handled by the hospital.

After it emerged that some people were claiming the land, the President warned that land grabbers who frustrate government programmes will be dealt with using more stringent legal provisions.

"This land was a coffee plantation owned by Mitchel Cotts. Government bought it from them and we have the title. Nobody can come here and successfully claim it," he stated.

The president disclosed that he had identified another team of investors to set up a similar project to cater for specialised dental treatment.

The Papal Nuncio, Michael Bloom and Italy's ambassador to Uganda, Domenico Fornara attended the launch alongside a delegation of Ugandan ministers and heads of health facilities.