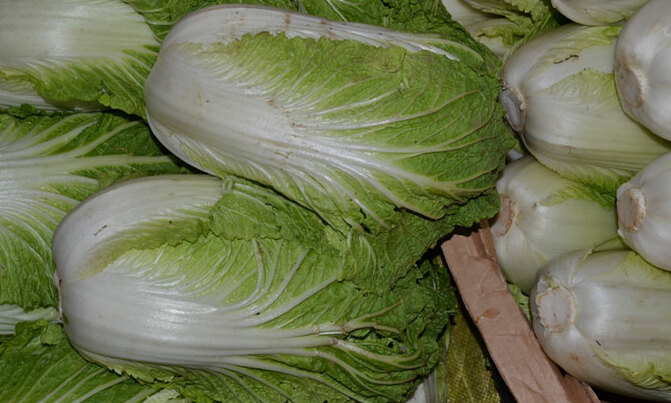 "We have been selling at the same price since this year began."
LATEST MARKET PRICES

Suzan Nalubwama, a vegetable vendor at Matugga market, says lettuce is one of the crops that is available on the market all year-round.

"This is because it only grows well near swampy areas and anywhere with plenty of water all year-round," she says.

Isam Sempala, a farmer in Gombe, says that they use irrigation to grow vegetables when there is no rain.

Unlike most crops that have seasons during which they are in plenty, lettuce has none.

According to Sempala unlike the other crops, lettuce is not often affected by unstable prices. "We have been selling at the same price since this year began."

Currently, big lettuce costs between sh1,500 and sh2,500 and small one costs between sh500 and sh2,000.
At Nakasero market, the vegetable costs between sh2,000 and sh2,500 on retail. At Kalerwe market, it costs between sh1,000 and sh2,000.

Jackie Nabweteme, a vendor in Nakasero market, says Indians are the biggest customers of lettuce. She says not many Ugandans understand the vegetable.

But Nalubwama says it is bought as much. Some buy it in place of cabbage because it almost serves the same functions.

Wakiso-based nutritionist Richard Senono says most people buy lettuce and cook it but it is supposed to be eaten raw to get better results.

"What some people don't know is that it has more nutrients than cabbage, especially when it is eaten raw. It has vitamins that are good for the body as it is rich in vitamins C and K".

Although it has market, Sempala says lettuce dries up if it stays overnight after its purchase. "The leaves will start to dry up. When they dry, traders cut off the top leaves that have dried, meaning that the value for the lettuce reduces".

He says lettuce doesn't rot but it just dries up, starting from the outer part to the inside. "I have never noticed how long, in terms of days, the vegetable takes to get spoiled."

Sempala's advice to buyers is to keep the vegetable away from direct sunlight. If one can get a cold place, it would keep it longer.

Wakiso remains the largest supplier of lettuce in Kampala markets. Nabwetema says lettuce on the market comes from Tanzania, Kenya and Uganda.​