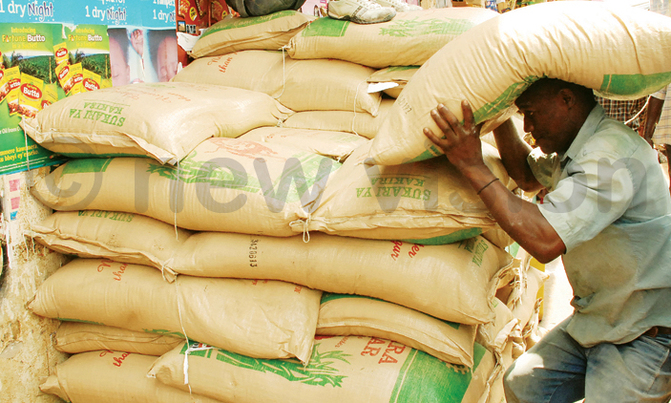 Besides sugar, the prices of food crops such as watermelon, fish and matooke also increased
According to data from the Uganda Bureau of Statistics (UBOS), the Consumer Price Index (CPI) has risen by 0.4 percentage points to 7.2% in May from 6.8% that was recorded in April 2017.
The report further indicates that this is so far the highest the CPI rise since the beginning of 2017. CPI is the official measure of price movements in a basket of goods and services over a given period of time.
Addressing journalists at UBOS offices in Kampala today, Dr. Chris Mukiza, UBOS director of macroeconomic statistics attributed the inflation drive to the rise of sugar prices which rose from 23.9% in April to 45.7% in May 2017.
"The scarcity of sugar has highly contributed to driving up inflation. There is high demand for sugar but less supply on the market," Mukiza said.
The price of sugar last year stood at 26.7%. Sugar costs between sh5,000 to sh7,000 but mid-2017, the price shot up to sh10,000 from sh2,500 of previous years.
"The prices of sugar are high although it is the main ingredient in in our daily products," Mukiza said adding that producers were attributing it to the scarcity of sugar cane.
He noted that besides sugar, the prices of food crops such as watermelon, fish and matooke also increased to 23.1% in May from 21.6% recorded in April hence driving up inflation.
The prices of fruits and vegetables also shot up to 37.2% from 35.5% and to 15.5% from 14.0% respectively for the period under review.
In addition core inflation which excludes food, fuel, electricity and metered water which are volatile to price changes, also increased to 5.1% in May from 4.9% recorded in April.
"Core inflation rose due to an increase in prices of other goods such as processed foods, clothing and footwear and services such as hair dressing, education, rent, health, financial and legal services, hotels and restaurants which rose to 5.6% from 5.1% for the period under review," Mukiza added.
Bank of Uganda's (BoU) medium target is to control core inflation at 5%. Recently, it cut the central bank rate to 11% in April from 11.5% that was recorded in February.
BoU has continuously tightened its central bank rate (CBR) to control growth in private sector credit.
However, annual energy fuel and utilities (EFU) rose 7.0% from 5.3% that was recorded in April. EFU consists of electricity, charcoal, firewood, petrol, diesel, paraffin and cooking gas.
Unmetered water which is sold in jerrycans increased to 9.9% in May from 2.7%
"The issue of firewood and charcoal contributing to the rise of inflation is due to seasonal factors especially during rainy seasons that make transportation very expensive hence leading to an increase in its price," Mukiza added.
However, month on month, headline inflation rose by 0.6% from 0.4%rise recorded in April 2017.
UBOS principal statistician Vicent Nsubuga said inflation rise means that consumers have to add additional resources or funds which can be got from savings or borrowing; to increase the amount of money spent.
"This is one of the ways through which consumers can be able to get the same amount of items they have been consuming," Nsubuga said.
He added that two, they (consumers) can forego some of the goods and service they have been consuming to fit into their budget.
"This can affect the quality of life or the basic needs may not fit into your budget resorting to non-nutrient foods within your budget," Nsubuga added.
Dr. Fred Muhumuza, senior economist and researcher said Uganda is headed for trouble following the inflation rise.
"People think we are just pessimistic, but Uganda's trend of growth has been down for the last 15 years," Muhumuza said.
He noted that there is need for massive reforms for the economy to grow since it is a macro economic issue.
Muhumuza added: "The rise of the dollar rate has affected the economy because a lot of money is spent on payment of debts which are in trillions."
"If we cannot finance 40% of our budget, how can we be able to save our economy?" he asked
He further added that there is need to restructure the economy such as instead of having massive roads construction, it should be reduced to core road construction.