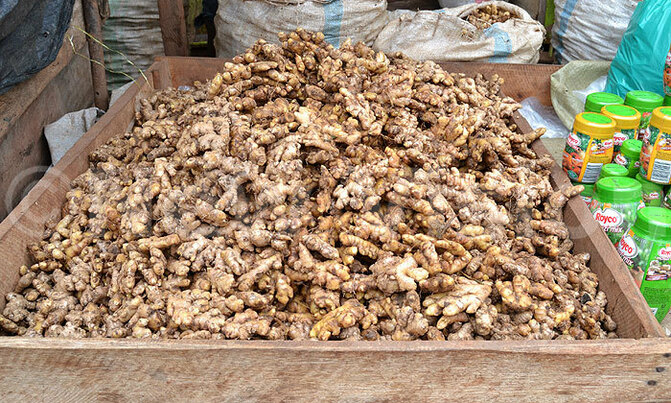 Averagely, a bundle of cinnamon leaves goes for sh5, 000.
(Credit: Sauda Nabatanzi)

LATEST MARKET PRICES

The price of fresh ginger went up at the beginning of May due to a shortage in supply.

Butambala and Gomba districts are the key suppliers of ginger to most city markets; so if the ginger is short in supply like it is right now, the prices hike, according to Herbert Musisi, a vendor in downtown Kampala.

At Nakawa and Kibuye markets, a kilogram of ginger is at sh4, 000 while it is sh500 cheaper for a wholesale buyer.

At Owino market in downtown, wholesale buyers can get a sack of about 100 kilograms at between sh345, 000 and sh350, 000.

Cinnamon

Cinnamon, locally known as 'mudarasin', is a popular spice for both tea and food. In markets, it is sold as leaves, sticks or powder.
Averagely, a bundle of cinnamon leaves goes for sh5, 000, a medium one at sh3, 000 and a small one at sh1, 000 at Nakasero Market.

In nearby supermarkets, a 250gram can of cinnamon powder is at sh4, 500 while the traders along Luwum street are selling the same quantity at sh2, 500.

You will part with sh1,000 for a bundle of cinnamon sticks.

Annet Nakassujja, a vendor at Bunga market, says: "It is so unusual for cinnamon to be scarce on market as it comes season after season hence the constant prices."