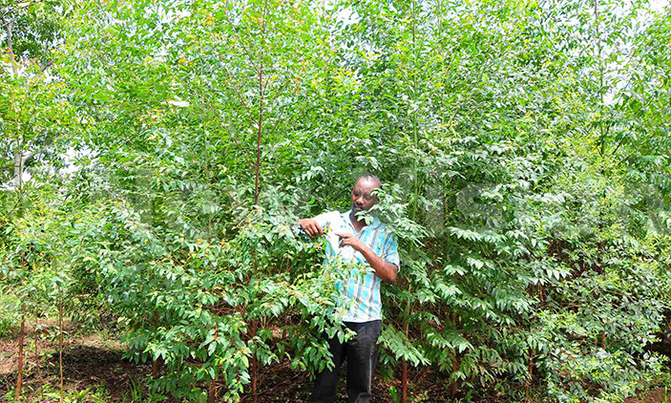 Kakooza says that tree grafting, though a largely backyard enterprise since it needs minor space earns well
When Twaha Kakooza sees a tree seedling, he sees money. This is why he has turned grafting tree seedlings as his major business, using a very small piece of space that under normal circumstances can otherwise be neglected. Kakooza is the manager of a successful tree seedlings project in Bubwejja village in Kayunga district.

He is the director of Shatwa Mixed Farm which also runs a eucalyptus tree project.

Kakooza says that tree grafting, though a largely backyard enterprise since it needs minor space earns well. "We have stocked many seedlings of , eucalyptus , avocado, mangoes, and oranges


When you have all this it really pays", says Kakooza. Several farmers in Kayunga district have benefited from tree planting, which have been successfully developed by Shatwa.

Kakooza saw gold in trees at an early age. He then aspired to achieve this dream. He sought for more knowledge about trees and hence, he was trained in South Africa.

Currently, this project has almost 120,000 seedlings. This nursery project supplies 20,000 seedlings of eucalyptus and 25,000 of pine seedlings.

"The average price for these seedlings is between sh2, 000 and sh5, 000", says Kakooza says. "We sell to individuals and farmers' groups.

Impact of the project

Kakooza`s project trains many farmers from different areas of Kayunga district and at the moment, many of them are practicing tree seedlings growing as a backyard business. "We want to train our farmers such that they don't make losses.

"We advise our people to stop lamenting about unemployment and instead start such a project because it is profitable," he adds.

The project teaches those with knowledge on farming and even those who are just starting farming.

Rose Nabuma is such a person who was trained by this project and she is now working with this nursery project.

How to graft trees

Grafting trees is as easy as ABC for those who have acquired the knowledge.

-However these tender, young trees needs so much care or else they die. "You need to plant them in fertile soils, most especially black loam soils," he says.

-The fertile soils are stocked into polythene bags before the grafted seedling is planted there.

-Water is a key component of this project since you need to water the seedlings regularly, without which they will die.

Challenges

Pest and disease control is a constant challenge in the nursery. There are many people who don't like this nursery seedling business, yet it is a profitable," he says.

People still take this project as a person business yet it is not our target.

Future plans

"Our target is to teach people in the whole of Kayunga district the advantage of tree planting. Kakooza also wants to expand the project`s own training centre.