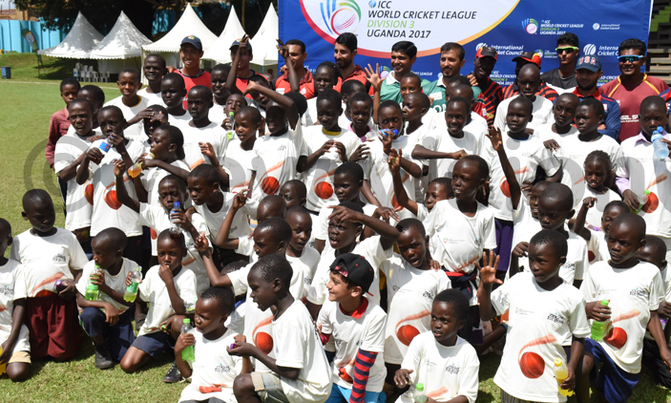 The one day event will now be conducted at every ICC qualifying event
International Cricket Council (ICC) development events manager, Gurjit Singh, believes kick-starting careers at a relatively young age should be at the fore in cricket development mechanisms in Uganda.
Singh expressed this during ICC's community outreach dubbed "Cricket for Good" on Thursday at the Lugogo Oval where aspiring cricketer underwent training by some of the top cricketers from the participating teams of the ongoing ICC World Cricket League Division 3.
"The idea of the program is to highlight the importance of early career development in the game of cricket and certainly the best way of conducting this is getting established players to demonstrate to them how the game is played" Singh said.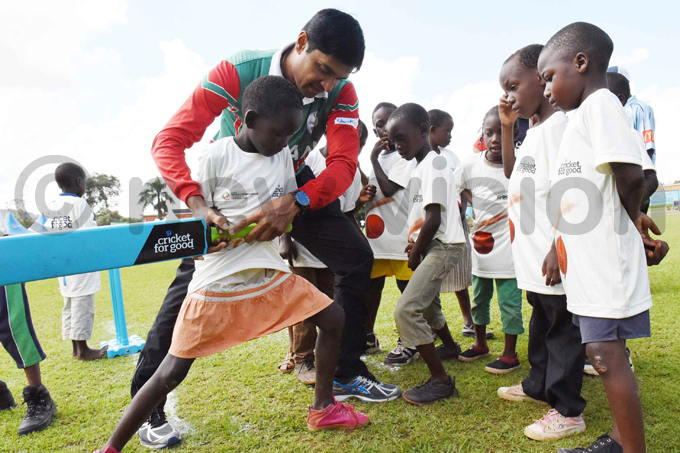 Oman's Ajay Lalcheta helps a young girl with her batting. Photo by Mpalanyi Ssentongo
Jonathan Ssebanja and Frank Nsubuga (Uganda), Anwar Arudin and Virandeep Singh (Malaysia), Sufyan Mehmood and Ajay Lalcheta (Oman), Navin Param and Anish Param (Singapore) Cecil Pervez and Jimmy Hansra (Canada), Nicholas Standford and Fahad Babar (USA) were selected to conduct this first of a kind activity at any ICC qualifying event.
I'm honoured to be part of this program and I have been amused by the love for the game displayed by the young eager players out here. They have learned the basics of the game and more importantly interacting with the stars is equally important" said Standford.
The one day event will now be conducted at every ICC qualifying event.​