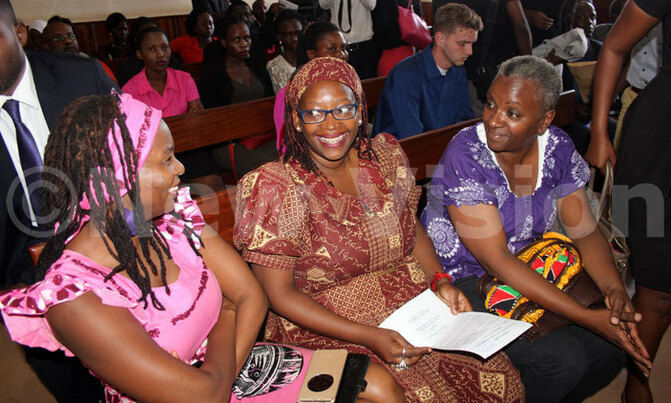 The constitution enshrines equal protection and treatment of all persons before the law as one of the fundamental tenets
The embattled Makerere university researcher Dr Stella Nyanzi has asked Buganda road chief magistrate's court to stay her trial pending determination of her constitutional petition.
Nyanzi's lawyers led by Isaac Ssemakadde asked Chief Magistrate James Ereemye Mawanda to temporarily halt the proceedings on grounds that her constitutional petition would be rendered irrelevant if the court proceeds to hear the case under the mental treatment act (MTA).
Ssemakadde submitted that Nyanzi would suffer irreparable damages that could amount to violation of her rights and freedom if the proceedings are not stayed.
But state attorney Nelly Asiku asked court to grant prosecution more time to enable them respond to Nyanzi's application, prompting Mawanda to adjourn the case to June 7, 2017.
According to state, Nyanzi should be subjected to medical examination under the MTA of 1938 to ascertain her mental status because she appears to be of unsound mind, basing on her conduct.
In a petition filed against the attorney general (AG) before the constitutional court, Nyanzi claims that sections 1 to 6, of the act, which provide for an inquiry into the person's state of mind, adjudication of insanity, admission to mental hospital and compulsory detention of a person suspected to be of unsound mind, contravene the constitution.
"The constitution enshrines equal protection and treatment of all persons before the law as one of the fundamental tenets of our constitutional democracy," Nyanzi contends.
Nyanzi avers that every person is guaranteed inherent and inalienable rights to liberty, dignity and protection from any degrading treatment and freedom of conscience and expression, which assures citizen's freedom to think, speak, walk and work without fear of being arrested and detained.
Dr. Nyanzi contends that having taken plea and the lower court's failure to discontinue the impugned inquiry under MTA was a travesty of justice intended to humiliate her, hence infringing on her right to a speedy trial.
She says that by permitting the removal of persons with mental illness or intellectual disability from society under the MTA threatens articles 21 to 29 of the Constitution that cannot be justified in a free and democratic government.
"Compulsory detention of a person in a mental institution leads to him or her being restrained to move or exercise their freedom, which contravenes individual right to privacy," She contends.
Meanwhile, Nyanzi has hired a new lawyer Peter Walubiri to head her legal team. Nyanzi clad in a coffee brown dress arrived in court at about 7:30am, appeared calm before the magistrate, while standing in the court dock.
On April, 10, 2017, Nyanzi was charged with two counts of cyber harassment and offensive communication under section 24, and 25 of the computer misuse act, 2011.
Prosecution alleges that on January 28, 2017 in Kampala district or there about Nyanzi used a computer to post on her Facebook page "Stella Nyanzi" and made a suggestion which is obscene or indecent under the law against the president.
Prosecution further alleges that between January and March 2017 in Kampala district, Nyanzi willfully and repeatedly used electronic communication to post offensive messages via her Facebook account, transmitted over the internet to disturb the peace or right of privacy of President Museveni with no purpose of legitimate communication.