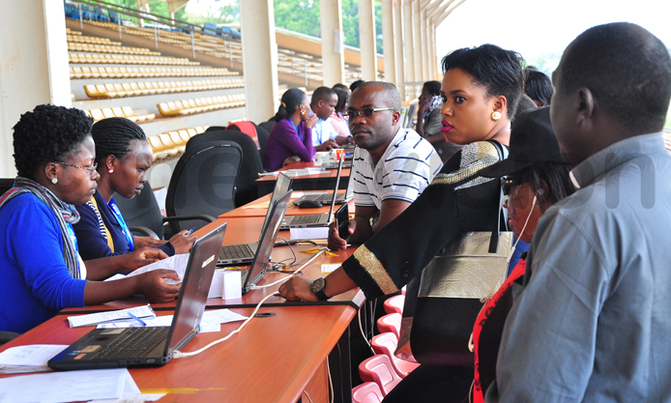 The registration body will increase officers and computers at NIRA offices to make it faster for applicants to register or collect their cards
NIRA staff registers citizens for National IDs at Kololo Independence Grounds last week. Photo by Juliet Kasirye
Government is to deploy more officers at national identity card registration centres to expedite the issuance of IDs that are required for phone subscribers to validate their SIM cards.
The move comes as telecom operators at midnight on Friday (Saturday morning) started deactivating SIM cards whose owners have not updated their details using national IDs.
It follows complaints about the slow process it takes at designated offices of the National Identification Registration Authority (NIRA) for applicants to register or collect their national IDs.
Information and national guidance minister, Frank Tumwebaze told journalists on Friday that more officers from different agencies would work with NIRA officers to hasten the issuance of national IDs.
"NIRA will be beefed up with officers from local government to improve the processing of national identity cards," Tumwebaze stated.
Clet Turiho, the director of ICT at NIRA said the registration body would increase officers and computers at NIRA offices to make it faster for applicants to register or collect their cards.
The demand for IDs has been largely driven by last month's directive from the Uganda Communications Commission (UCC) compelling operators to re-register subscribers using their national identity cards.
The exercise was prompted by security concerns following numerous reports that criminals were using unregistered lines or SIM cards with different personal details to commit crimes.
Under UCC's directive, all mobile phone subscribers are required to re-register their SIM cards by submitting their national identity card numbers (NINs) to telecom subscribers.
Phone users were required to visit telecom service centres or dial *197*3= and follow prompts to key in their NIN, surname and given name, or alternatively to send their details as a message to 197.
NIRA centres overwhelmed
Last month, a last minute rush to beat the deadline for verification of sim cards resulted in long queues and chaos, forcing government to extend the deadline to May 19.
By last month, NIRA had set up identity card registration centres in Entebbe, Bweyogerere, Kira Town Council, Makindye Ssabagabo and Nsangi to deal with a surge in numbers of people seeking IDs.
Out of 22 million mobile phone users, about 18 million people had registered for national IDs and 17 million cards issued, officials said, implying a significant number are still yet to acquire the cards.
According to Gilbert Kadilo, the NIRA public relations and corporate affairs manager, it takes an average of one month from the time one applies for a national ID to the collection time.
Quoting UCC records, Tumwebaze said telecoms collectively had registered 92% of all active SIM cards in the country and there was no need to extend the sim card verification exercise.
Although unregistered or unverified sim cards will no longer be able to make calls, mobile money wallets will remain not be deactivated, the minister said, allowing users to withdrawal the money or register.
Commenting on Parliament's demand that the SIM card verification exercise be extended further to allow more people to register, Tumwebaze said government would stick to the switch off deadline.
"We believe there is no need for extension because security is a matter that affects us. Resolutions of Parliament are not court orders," he stated.