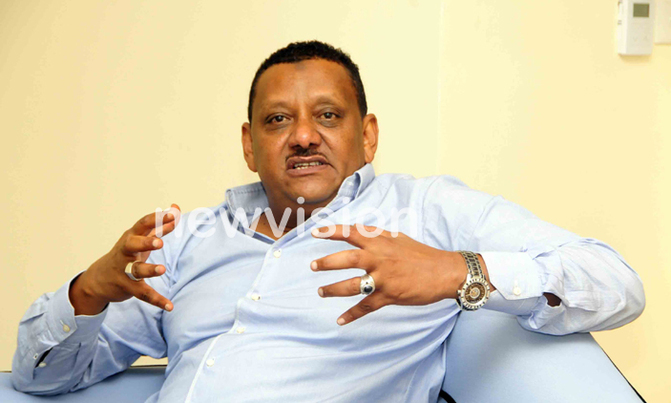 Hamid distanced himself from claims that he had approached Jamirah Opondo's lawyers asking her to accept to settle the matter outside court.
The chairman of AYA Group, Muhammed Hamid has said that he is ready to battle it out in court with his former female employee who is accusing him of sexual and physical assault.

Hamid distanced himself from claims that he had approached Jamirah Opondo's lawyers asking her to accept to settle the matter outside court.

"I have not approached anyone in trying to ask to get the case sorted out of court, I have no reason to do so and I'm ready to get the matter sorted in court," Hamid told journalists on Tuesday.

He was reacting to last week's media reports which indicated that he had sent his lawyer to negotiate with his accuser's advocates in trying to let her accept to resolve the matter outside court.

Jane Kajuga, the Director of Public Prosecutions (DPP) spokesperson confirmed to New Vision on Wednesday that the office had received two files of sexual assault and assault causing bodily harm.

She however said the files were perused and sent back to the Criminal Investigations Department for further investigations.

"Neither Hamid nor his lawyer has dealt with anyone from Jamila's side, we are not ready to deal with any person but only to let this matter be settled by court," read in parts a statement earlier issued by AYA group Public Relations Officer, William Nuwasasira.

Hamid told journalists that he would want the case to proceed in court, saying that his accuser intended to blackmail him after he rejected her demand to 'cough' a bribe of USD10,000 to facilitate her and a clearing agency. She had allegedly informed her boss that the goods imported for construction had been withheld for presenting a wrong invoice.

"I warned them that they were trying to commit forgery and extortion to falsely fleece the company money," he explained.

He said Opondo left the office without notifying anyone and instead reported a case of assault against him.

"A week later, when she was unable to substantiate the assault case, she went back to the same police station to report another case of sexual harassment against me, which she failed to substantiate again," Himid explained.

He said Opondo ran to old Kampala after she failed to convince the police at the Central Police Station and later got in touch with the minister of state for labor and employment, Herbert Kabafunzaki.

Kabafunzaki and his two aides were recently arrested at Serena Hotel and later produced in court for allegedly soliciting and receiving a bribe from Hamid in regard to the sexual assault accusation. Kabafunzaki has since been suspended from cabinet over the saga.

George Musisi, one of the lawyers representing Opondo in court however insisted that there were some attempts by an 'emissary' from AYA Group to let the matter be settled outside court.

He insisted that the emissary requested for the matter to be settled outside court, which he said was lawful and accepted in court.

"The settlement outside court means that the accuser withdraws the complaint but it is not me to decide but the complainant who is the one to decide, but the procedure is legal and allowed in court," Mukasa explained. He however said if this was to happen, it must be formal.

A story published by the New Vision website quoted Musisi saying that if the two sides were to talk, discussion would concentrate around the physical assault, sexual harassment and Opondo's salary arrears of two months.

Women rights activists have however demanded that the case be expeditiously investigated and let Hamid be arraigned in court. The activists accused the Police of trying to trample the case.