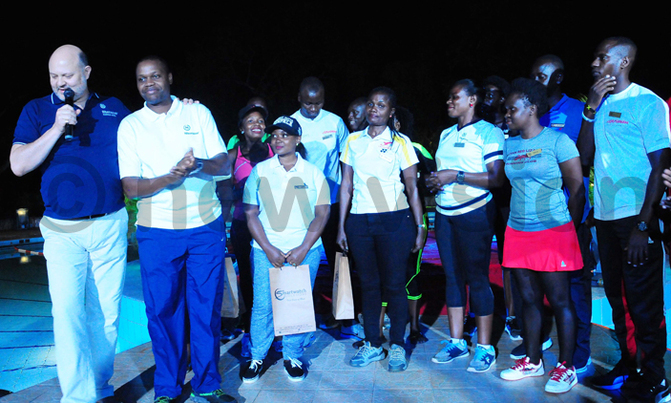 Fitness fanatics won different prizes after participating in the different workout routines led by several instructors
As is the culture at Sheraton to recognize and reward exceptional and loyal clients, the hotel extended rewards to members of its fitness club with various prizes at a cocktail at Kyoga poolside.
The event dubbed 'Fit-Pro' had guests dressed in their workout gear with the best dressed male and female each receiving the popular Fitbit smart fitness tracker watches.
The cocktail was held for members to meet, share ideas, achievements and also create an opportunity for the hotel's management to thank them for their loyalty, putting their health first and keeping to their promise of staying fit and healthy.
The hotel's general manager, Jean Philippe Bittencourt, also took the opportunity to announce major renovation plans for the Kyoga poolside with a new lounge and bar, fitness centre & and the Garden Patio Bar near Paradise Restaurant.
"We expect most of the work to be finished in the next few months. These renovations will add a lot of beauty and modernization to our already iconic hotel and you will all be invited when we are ready to launch" Bittencourt said.
Fitness fanatics won different prizes like bottles of premium whiskey, hotel vouchers to mention but a few after participating in the different workout routines led by several instructors.
The competition was set up to ignite a competitive spirit amongst the gym members and instil resilience in the members.
"We appreciate the effort and time the members invest in keeping healthy because we understand how sometimes life gets hectic with work, family and other obligations.
It's not easy sometimes to create time for gym or exercising, I must say you are very disciplined individuals and I commend you for that and please keep it up" Bittencourt added.​