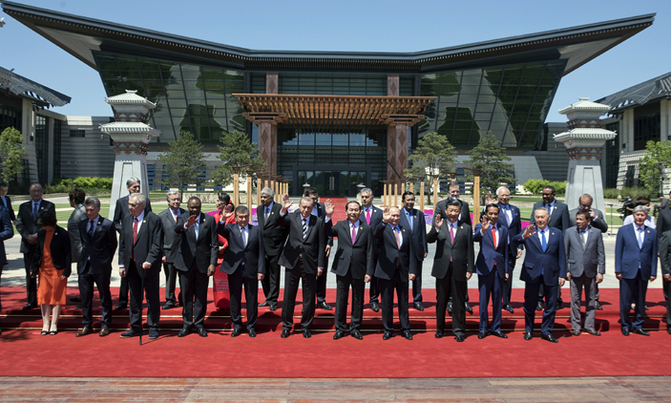 China's president Xi Jinping opened the Belt and Road Forum in Beijing on Sunday
African leaders have praised China's belt and road initiative as a tremendous chance for Africa to cure her infrastructure deficiencies and realize its place in the global economy.
Ethiopian Prime Minister Hailemariam Desalegn said the initiative, a brainchild of China's president Xi Jinping, falls perfectly in line with Africa's vision to achieve industrialisation and sustainable development.
The initiative opens the door for developing and emerging economies to contribute to global economic growth, said Desalegn.
Xi Jinping opened the Belt and Road Forum in Beijing on Sunday, calling it the 'project of the century' before hundreds of delegates, including 29 heads of state.
Win-win cooperation
The initiative aims to build a trade and infrastructure network connecting Asia with Europe, Africa and China along ancient trade routes through massive projects such as railway lines, highways, sea ports, airports, energy infrastructure and industrial parks.
It draws inspiration from the ancient Silk Road and sea routes used by merchants from Asia to trade with Europe and Africa.
Xi said China is not seeking to make geo-political manoeuvres through the belt and road initiative but rather to promote economic interdependence between countries to achieve prosperity and economic inclusiveness.
He said manufacturing will open up the economies of countries in the initiative, create employment, prosperity and reduce inequality. Over 100 countries and organisations have supported and got involved in the belt and road initiative.
China will also speed up momentum in the initiative by contributing $14.5bn to the Silk Road fund and $18.8bn to support cooperation on infrastructure, industry capacity and financing.
Russian President Vladmir Putin said the initiative is an innovative approach to building a future based on inclusive growth and integration without interference in the affairs of other countries. He said the initiative falls in line with the values of the United Nations.
Far-reaching, ambitious
United Nations Secretary General Antonio Guterres said the belt and road initiative ensures effective access to markets and new opportunities. 'It is far-reaching geographically and in terms of ambition', Guterres said. He urged participating countries to ensure that 'benefits reach beyond cities to rural areas'.
Xi pledged $8.7bn to developing countries and humanitarians organisations participating in the belt and road initiative to launch projects to improve the wellbeing of people. China will also provide $290m in emergency food aid to developing countries along the belt and road.
China will encourage technology transfer and development and assist developing countries in the belt and road initiative to adapt to climate change, Xi added. He called for the establishment of a digital silk road promoting internet connectivity, cyber space development and youth entrepreneurship taking advantage of the internet.
Uganda reacts
Uganda hailed the belt and road initiative as empowering and liberating. Uganda's deputy ambassador to China, Henry Mayega, said China is a great friend of Uganda and Africa in general.
"China according to the most recent statistics by Uganda Investment Authority is the second biggest investor in our country and the curve is still rising," Mayega said.