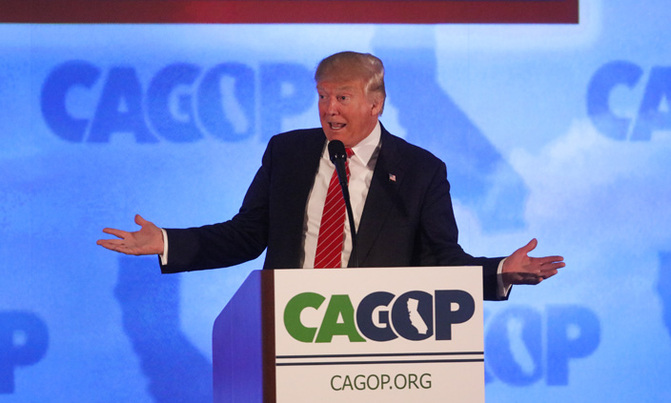 At least a dozen different names are being mentioned in US media as candidates to replace Comey.
President Donald Trump stepped up the search Monday for a new FBI director after he abruptly fired James Comey, but Democrats are threatening to throw up roadblocks unless a special prosecutor is named to probe Russia ties.

Trump told reporters Monday he was "moving rapidly" to pick a replacement for Comey, whose shock dismissal triggered accusations that the president was trying to obstruct an FBI probe into whether his campaign colluded with Russia to tilt the November election his way.

At least a dozen different names are being mentioned in US media as candidates to replace Comey.

"Almost all of them are very well known. They've been vetted over their lifetime, essentially. But very well known, highly respected, really talented people," Trump said over the weekend.

He said he might even make a decision before leaving later this week on his first major international trip, to the Middle East and Europe.

The possible candidates include men and women with experience in law enforcement or national security, and others more associated with politics.

Among the group are the current acting FBI director Andrew McCabe, veteran Republican Senator John Cornyn, former federal prosecutor Michael Garcia, former presidential adviser Fran Townsend, Republican former congressman and FBI agent Mike Rogers, and Trey Gowdy, who led a congressional panel that probed the attacks on a US compound in Benghazi, Libya in 2012.

Trump's pick to succeed Comey will have to first appear at confirmation hearings before a Senate panel, before the nomination is put to a vote in the entire Republican-controlled Senate.

But Democratic lawmakers are making such a vote contingent on the Justice Department naming a special prosecutor to probe Russia's alleged interference in the US election -- and the question of possible collusion with Trump's campaign.

"To have that special prosecutor, people would breathe a sigh of relief, because then there would be a real independent person overlooking the FBI director," Senate Minority Leader Chuck Schumer said Sunday.

Democrats cannot actually prevent a Senate vote on a new FBI director. But they could delay it with foot-dragging measures, and that would be rare for a vote on the FBI chief. Such nominations tend to get support from both parties.

Are there recordings?

As it stands, no senior Republican lawmakers have supported the naming of a special prosecutor in the Russia affair. But that does not mean they are happy with Trump's actions of late.

Some Republicans are upset with Trump for admitting he had the FBI's Russia probe in mind when he fired Comey.

Trump is described as livid over seeing his name mentioned constantly in connection with the investigation when, according to the president himself and several lawmakers, he is not a target of the probe.

Deputy Attorney General Rod Rosenstein will brief the Senate behind closed doors Thursday on the circumstances surrounding Comey's firing.

A memo from Rosenstein criticizing Comey's handling of the Hillary Clinton private email server probe was initially offered by the White House as justification for the FBI chief's dismissal.

The president insinuated in a tweet last week that he might have recordings of private conversations he held with Comey.

That sent Washington -- rattled and surprised almost daily by the shoot-from-the-hip Trump presidency -- into a veritable lather, and sparked comparisons with the behavior of Richard Nixon and the Watergate scandal.

The Washington Post quoted former Trump business associates and journalists as saying they have long suspected that Trump recorded his own phone calls.

If Trump did record conversations with Comey, under the law, he cannot destroy or hide them.

"If there are any tapes, they have to be turned over," Republican Senator Lindsey Graham said Sunday.

Graham said the next FBI director should be "beyond reproach" and free of political trappings so as to ensure an independent probe of the Russia affair.

Democrats are asking the White House to release any recordings Trump may have made so as to determine if he tried to intimidate Comey or even obstruct justice.

Last week, White House spokesman Sean Spicer refused to confirm or deny the existence of any Oval Office recordings.

When pressed on the issue again Monday, he used nearly the same formulation he had employed last week: "I was very clear that the president would have nothing further on that last week.