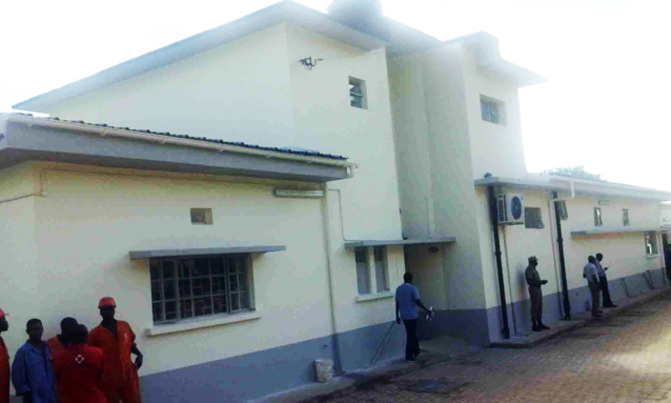 He said the renovation of the Radiotherapy bunker has been funded by the government at a cost of sh1.1bn.
The renovation of the Radiotherapy bunker to house the cobalt 60 machine commonly known as radiotherapy machine for cancer treatment has been completed.

Speaking during the handover of the facility by the Arab contractors, the executive director Uganda Cancer Institute, Dr Jackson Orem said the facility has been approved by the Energy Atomic council.

He said the cobalt 60 machine has been procured from the Czech Republic at a cost of 700,000 Euros and in two weeks' time it will be installed at the renovated bunker.

He however said the shipment of the machine is to be done in two phases and the commissioning of radiotherapy machine will take place in June.

He said the renovation of the Radiotherapy bunker has been funded by the government at a cost of sh1.1bn.

The purpose of the machine is to offer radiation therapy which kills or damage cancer cells. Radiation therapy is a common form of cancer therapy. It is used in more than half of all cancer cases.

Annually the machine used to treat over 75 % of cancer patients.

The machine will be a backup for the linear accelerator machines and brachytherapy machines which are expected to be placed at the Radiotherapy bunkers which are still under construction.

The linear accelerator is used to treat all parts of the organs of the body. It delivers high-energy x-rays to the region of the patient's tumor, while Brachytherapy is one type of radiation therapy used to treat cancer.

The cobalt 60 machine broke down early last year and Agha Khan Hospital in Nairobi offered free radiotherapy treatment to Ugandan cancer patients. 'So far about 100 cancer patients have received treatment from Agha Khan Hospital since last year when the machine broke down," he said.
Orem added that there are plans to have four regional cancer centres in Mbale, Mbarara, Gulu and Arua with the funding from World Bank and Australian government.

Annually UCI treats 27,100 cancer cases of which 60,000 are new cases and 78 percent of newly diagnosed cancer patients die by the end of one year.

The Under Secretary Ministry of health Ronald Seggawa appealed to the public including medical personnel and Journalists to screen for cancer since cancer screening is free.

'Medical personnel have a very bad history for not using the medical services themselves, take advantage of the services we give so that we avoid the problems of cancer," he said.