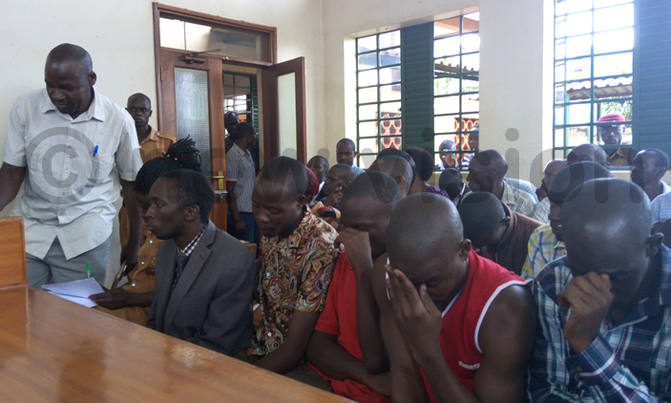 Bagyenda appeared in court alongside Vincent Rwahwire, and Innocent Bainomugisha to answer charges of murder
After seven adjournments, the state has told court that inquiries into the murder of 22-year-old Enid Twijukye, who was allegedly murdered by her boyfriend, Brian Bagyenda is nearing completion.
When the case came up for mention on Wednesday, State prosecutor Joyce Anyango, informed court that investigations into the case are almost complete.
"Since the investigations are nearing complete I pray that the accused be remanded again to Luzira," she said.
This prompted Nakawa Chief Magistrate's court Grade One Magistrate Margaret Aanyu to remanded Bagyenda and his co-accused to Luzira Prison and adjourn the case to May 23, 2017 for mention.
Procedurally, when investigations are complete, committal papers are prepared by the Director of Public Prosecution (DPP) and the accused is sent to High Court to face trial.
Bagyenda, 29, appeared in court alongside Vincent Rwahwire, 28, and Innocent Bainomugisha, 24, to answer charges of murder.
On February 1, 2017, the trio was charged with murder under section 188 and 189 of the Penal Code Act. The offence of murder carries a maximum penalty of death upon conviction.
Prosecution alleges that the accused, on January 4 2017 at Plot 2 Njobe Road in Luzira, Nakawa division, with malice afore thought, unlawfully caused the death of Twijukye.
On January 18, Police arrested Bagyenda and his co-accused after telephone print outs from the mobile phone of the deceased showed that he was the last person to speak to her (Twijukye) before she disappeared mysteriously from her home.
She was murdered and her body was dumped in Seeta, Mukono district.
Twijukye lived with her sister in Namugongo, Kira Municipality, Wakiso District. On the eve of the fateful day, she left home and told her sister she was going to visit someone in Bweyogerere.
The following day the deceased's phones went off, prompting her mother Nkoko to contact her other daughters about her whereabouts.
Later, Police recovered Twijukye's decomposing body in Namanve forest, 11km away from the murder scene.
At the time of death, Twijukye was working at Capital Shoppers in Ntinda and was due for graduation.