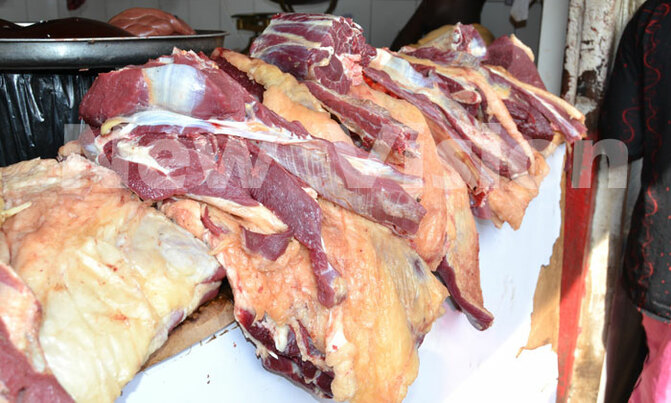 It's not going to get any better soon.
(Photo credit: Ruth Nanfuka)

LATEST MARKET PRICES

By Ruth Nanfuka

The price of meat is high is not expected to drop any time soon. And so is that of offals.

Buyers have had to get used to the elevated prices of these culinary delicacies.

Swaib Ntege, a butcher at Nakawa Market, attributes this situation to the high demand of meat yet the supply is relatively low. plus the inflation involving the Ugandan shilling.

He says the situation is to continue as along as the energetic youth remain mostly in urban areas instead of working in the rural areas to help deal with the demand.
Ntege says that gone are the days when one bought a kilogram of beef at sh6, 000; today it goes for sh10, 000 while goat's meat costs sh12, 000.

And when it comes to the more urban places like Ntinda Market, residential surroundings greatly influence the prices as beef goes for sh12, 000 a kilogram and goat's meat at sh15, 000.

Ntege however says that meat and offal prices are not fixed since they are perishable products.

In order to clear the stored meat before it goes bad, sellers are forced to cut prices from sh10, 000 to around sh8, 000 or sh7, 000.

The lowest measurement for meat is half a kilogram.

If you cannot afford meat, try offals as they are a bit lower on the price end.
Kitiibwa Ssenabulya, an offal trader, says: "The bad roads hinder the transport systems and in the long run we end up getting few offals in the market."

With a low supply, a kilogram of offal goes for sh6, 000 and when they are more available in the market the price is usually cut to sh5, 000.

Since it is also a perishable, a kilogram can go down to sh4, 000 when sellers want to avoid total losses when it goes bad.