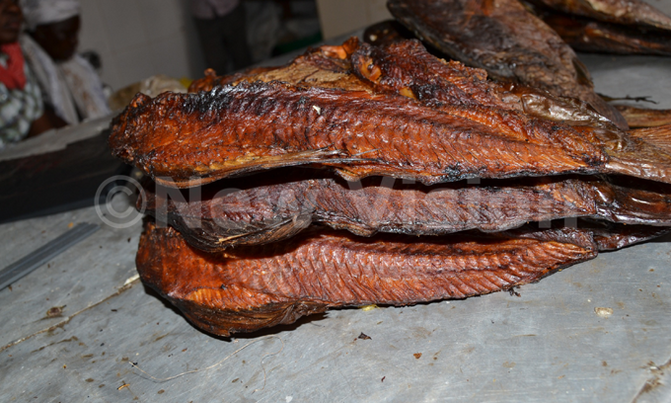 At Kaleerwe and Nakasero markets, a dried small-sized Nile Perch is at sh8, 000 to sh10, 000
(Credit: Sauda Nabantanzi)

LATEST MARKET PRICES

Nile Perch

Following the tight move against hunting and selling of immature fish, the fish supply has steadily gone down in most of the city markets.

Vendors say this has led to a hike in the price of fish for close to three years now.

Nile Perch is one of the common types of fish on the market and it is available when fresh or dried depending on one's choice, says Stella Nakku a vendor in Nakasero market.

Prices in fish differ according to size and when it comes to the big size of Nile perch even weight matters.

At Kaleerwe and Nakasero markets, a dried small-sized Nile Perch is between sh8, 000 and sh10, 000; middle sized one at sh20, 000 and a big one ranges from sh25, 000 and sh30, 000.

In terms of weight, a kilogram of Nile Perch is currently at sh14, 000.

Tilapia

The price and supply of Tilapia is following the same trend.

Prices of Tilapia mainly depend on size.

At Kibuye, Nakawa and Nakasero markets, a fresh small-sized tilapia is at sh8, 000, a medium one at sh12, 000 and the last size at sh13,000.

And for smoked Tilapia, the prices are higher, ranging from sh10, 000 to sh25, 000

Sardines
Locally called as nkejje, sardines are small-sized type of fish although a little bigger compared to silver fish.

They are usually hooked on a wooden rod.

A rod which typically bears 10 to 15 sardines costs sh1, 000 while a bundle of 10 rods costs sh8, 000 at Bunga and Kibuye markets.

Zaina Wagwa, a vendor at Kibuye market says: "Compared to the other types of fish, sardines are more available hence attracting low prices in most markets."

Wagwa adds that this type of fish can be further transformed into powder form where a cup ranges from sh1, 000 to sh2, 000 depending on the size of the cup.