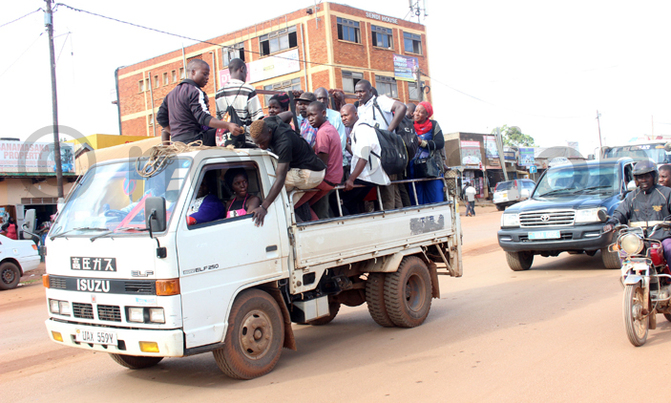 Kyengera drivers accuse the Kibuye group of extending operations from Kyengera to Nsangi
A pickup truck transporting passengers from Kyengera to Kampala after taxi drivers went on strike on Tuesday. Photo by Meddie Musisi
For the second day running, business in the Kampala suburbs of Kyengera, Busega, Ndeeba, Nateete and Kibuye along Masaka Road remained paralysed as rival factions operating public transport abandoned work in the unresolved row over operating boundaries.
Consequently, many passengers were stranded since they could not afford the high fares charged by the few commuter taxi operators who included special hire drivers and motorcyclists who operated.
The few special hires from Kyengera to the city centre were charging sh20,000 from the usual sh10,000 while bodabodas charged sh5000 per head even with two passengers aboard.
The strike that entered a second day follows extensive mobilization by Kyengera taxi drivers who said they were against harassment by their colleagues who are operating from Kibuye Taxi Park.
Kyengera drivers accuse the Kibuye group of extending operations from Kyengera to Nsangi.
According the drivers at Kyengera Park, both parties from Kibuye and Kyengera resolved that the taxis from Kibuye should not go beyond Kyengera which the drivers from Kyengera are opposed to.
The standoff prompted Kampala Metropolitan Police Commander, Frank Mwesigwa, to convene an urgent meeting with leaders of the rival groups.
The meeting at Country Resort Kyengera was attended by Wakiso district RCC, Ian Kyeyune and Nsangi Municipality Mayor, Hajji Abdul Kiyimba.
Warning them against causing public disorder in the city, Mwesigwa said, "let us keep public order on the road as we talk to your leaders and see how to resolve this problem."
However, Kyengera taxi operator's chairman, Simon Muweesi, said his drivers and conductors are always provoked by Kibuye drivers.
"We don't have a bad agenda towards our brothers from Kibuye, but they are the causers of all this," Muweesi said.
Muweesi said he has met several times with the leadership of Kibuye but failed to reach a conclusion because they refused to accept that the taxis from Kibuye must have a boundary at Kyengera.
Speaking to both parties, Kiyimba said any taxi driver who wants to operate from Kyengera and Nsangi must follow the guidelines governing taxi drivers.
"We don't have a problem with someone working within Nsangi, but he must be well-behaved and be ready to follow our guidelines," Kiyimba noted.