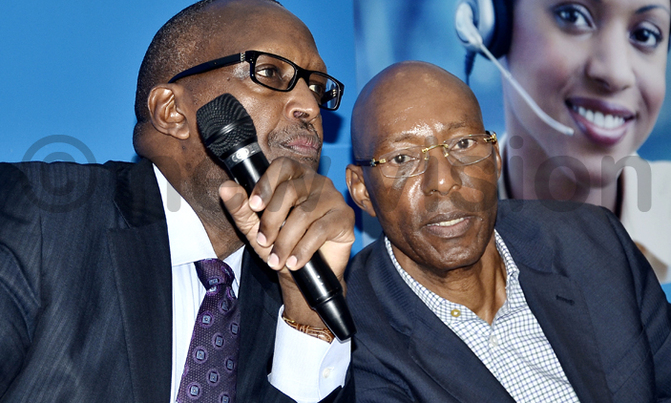 About 11.3 million SIM cards out of 13 million have been verified
Internal Affairs Minister, Henry Tumukunde (L), listens to the UCC executive director, Godfrey Mutabazi, during a press conference in Bugolobi. Photo by Ronnie Kijjambu
Mobile phone users who will not have updated their SIM card data by the close of May 19 will have their lines deactivated, the telecom regulator said on Monday, vowing no further extension of the deadline.
The SIM card verification exercise which started in April was initially meant to last one week but was extended for another month following a last-minute rush and a public outcry for an extension.
The verification of subscribers is intended to help law security agencies to track criminals and curb phone theft, fraud, threats and incitement of violence.
Security Minister, Gen Henry Tumukunde told journalists that all unverified SIM cards will be switched off after the deadline because they pose a security threat.
"This is a matter we do not intend to compromise on. The deadline for SIM card verification will not be extended," he stated.
About 11.3 million SIM cards out of 13 million have been verified by the National Identification Registration Authority (NIRA).
UCC executive director, Eng Godfrey Mutabazi said the progress on the verification work had been positive.
"By last week 70% of the registration exercise was done. We are doing very well," he stated.
In March, a New Vision survey found that telecom operators were selling active unregistered SIM cards, four years after a government ban on the practice.
In 2013, UCC directed all telecom operators to switch off all unregistered mobile phone numbers following a mass SIM card registration exercise.
The registration of SIM cards was provided for in the Regulation of Interception of Communications Act, 2010 which provides for lawful interception of private person's communications for security reasons.
Phone subscribers were allowed to register their SIM cards using other documents including driving permits, work IDs and letters from area local authorities to register cards.