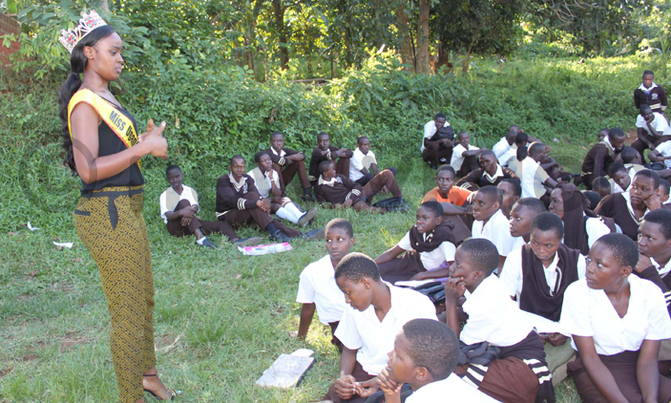 The function was organized by Family Rescue Initiatives-Uganda
Students of Yeffe Secondary School at Namanve have been advised to remain focused on their studies and not to fall victims of HIV/AIDS, unwanted pregnancy and sexually transmitted infections if they are to compete favourably in the world of work after completing their studies.
Giving an inspirational talk on Friday, Brigit Katungi the reigning Miss Uganda UK, tipped students on how to meaningfully spend their holiday, saying everything is possible and they can attain the best if they are focused.
"Study hard. Do not be in a rush. Teenage pregnancy is not desirable. When you go for holiday be careful because people may entice you with gifts and in the process you fall victim. Be focused and you will get all the good things you need after you have completed your studies," said the 25-year old Katungi.
"I would not be where I am today if I had not concentrated on my education. I want to inspire you to abstain from sex until that time. Your education is key. These boys will mess you up and leave you. Boys, take care of these girls if you really love them. You can wait" she added.
She told the students that they were lucky to be in school, and have someone paying their fees because many are not in school due to lack of school fees. She advised them to stop and think who their best friend is.
"This is your package for your holiday. We want you to be responsible and successful in the future. Use that chance and be grateful to the one paying your fees. Do not do things you will regret later," she said.
The function was organized by Family Rescue Initiatives-Uganda (DRI-U), an NGO designed to restore hope and dignity to families, communities and institutions affected by HIV/AIDS.
FRI-U was sub-contracted by MOTA-ENGIL ENGENHARIA (The contractor of Kampala Northern Bypass) to implement HIV & AIDS, STI's, Gender, child protection, Occupational Safety and Health as well as Sexual Reproductive Health (SRH) activities along the Bypass throughout the construction period.
FRI-U works in partnership with the Ministry of Health and their program is strictly on the Kampala Northern Bypass catering for the road workers and the host communities around the road to provide them with HIV/AIDS sensitization and testing.
FRI-U executive director Jane Mwirumubi said they were lucky to have Miss Uganda UK speak to students with passion and give them guidance on how they should conduct themselves. She said that Miss Uganda UK is an inspirational speaker who is a role model in the lives of young people.
Angel Ntege, a young person living with HIV also talked to the students, cautioning them to take precaution to avoid getting it. She lost both her parents at a tender age when they died on the same day in a car crash. During that time she had siblings to take care of and she had to hassle to raise herself up and at the same time taking care of her two brothers, becoming a parent at the age of 13.
"The reason I got HIV is because I lost my parents. If I had my parents to take care of me may be I would not the HIV virus. I had another commitment of taking care of my brothers because I never wanted them to drop out of school and suffer. If you are lucky to have parents to pay your fees, please, study," she said.
She narrated that when her parents died she wanted to continue with studies but raising fees was a problem. She met someone who sponsored her to further her education. He was giving her money to take care of herself, pay her school fees and her brothers. She was also renting.
"This person was HIV positive unfortunately and I dint know because I was so eager to go to school and I also wanted my brothers to have an education. I moved in with this guy and he infected me with HIV. I do not want that to happen to you," she warned.
She regretted that five hundred and seventy girls between the age of 13 and 24 who get HIV every week (MOH data), which is very alarming to hear. She expressed fear that they may not achieve the zero HIV prevalence if the trend remains the same, since instead each passing day HIV is rising.
"HIV is not tested by eyes. If I dint tell you I am HIV positive you wouldn't know because I look healthy. You cannot detect HIV by your own eyes. Very many people are having HIV yet they are looking good. People who are HIV positive look healthier than those who do not know their HIV status because for us we know how to take care of ourselves," she said.
She warned the students not to go in with someone because he looks good, otherwise they will fall a victim like she did. She said that even if one doesn't have parents they can make progress. She has managed to pay her brother's fees till he graduated as a computer engineer, and she is so grateful she did something in some one's life through hassling.
She encouraged girls and boys when making decisions to make rightful decisions which they will not regret. She urged them to stay focused, not to involve themselves in love affairs when they are still students.
"If you are negative stay negative. Those boyfriends lie to us. The moment you sleep with him and you become a victim, they dump you like I was dumped. You will say I wish I knew when it is already too late".
She also warned against discriminating those who have HIV because some are born with HIV. She also encouraged people to complete their doses.
"For me, I have to take my medication every day whether I am sick, on a party or whether I am traveling. That is how I have managed to live positively with HIV."