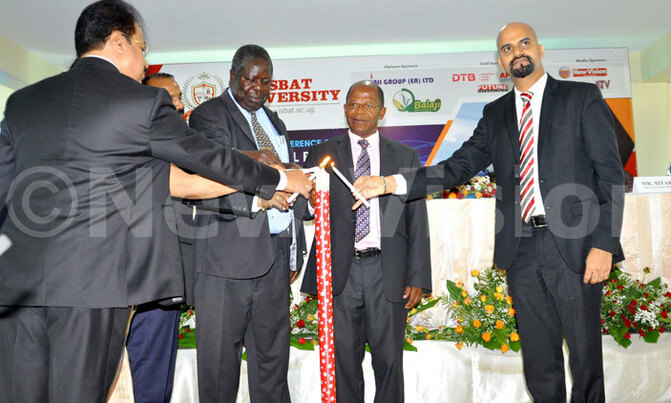 This era of smartphones, where almost each university student has one, would provide a platform for communication and learning
Photos by Nancy Nanyonga
The state minister for higher education Dr. John C Muyingo has called on universities in the country to emphasize electronic learning more than face to face interaction with students.
Muyingo believes this will reduce the cost of education because course materials, transport and accommodation costs will reduce hence making education less expensive.
Muyingo said this yesterday while opening the international conference on international business management and commerce (ICIBMC) at International School of Business and Technology (ISBAT) University in Kampala.
He added that learners prefer mobile and self-spaced content and short period of the courses centrally to face to face long courses.
"This era of smartphones, where almost each university student has one, would provide a platform for communication and learning in the country. It would reduce on the cost of education." He said.
He added that distance learning would give room for a student to study while working and reduce on over dependence on their families.

The minister decried the youth unemployment burden in the country which he blamed on inadequate research by universities.
About 40,000 youths graduate annually from both public and private institutions across the country and according to Muyingo, 680,000 graduates are unemployed in the country.
He added "It makes me worried when the number of unemployed youths increases annually; universities should increase their own budgets for research to establish what employers want from graduates."
Muyingo urged universities and tertiary institutions to partner with the private sector to facilitate research rather than relying on government.
The National Council for Higher Education (NCHE) executive director Prof. John Opuda- Asibo urged government to exploit youths for employment through technology innovations.
He cited Europe and Asia that have developed because of the innovativeness of youths mainly between 18-25 years for employment.
He blamed challenges in the education sector on universities that emphasize awarding degrees than granting students skills.
"All institutions of learning must contribute on research in the country, researchers are very fundamental in providing solutions to problems like unemployment." He said.
He also advocated for innovation clusters and specialization that would promote competiveness for regions in the country adding," For instance if a university produces only doctors, the other engineers, it would promote competiveness than having them at one point."
ISBAT University acting Vice-chancellor Dr. Sudhindra Bhat noted that Uganda will achieve the middle income status through technology and employment creation.
Bhat explains that over 10 % Indian youths have created employment opportunities at home through technology innovations urging Ugandan youths to borrow a leaf.