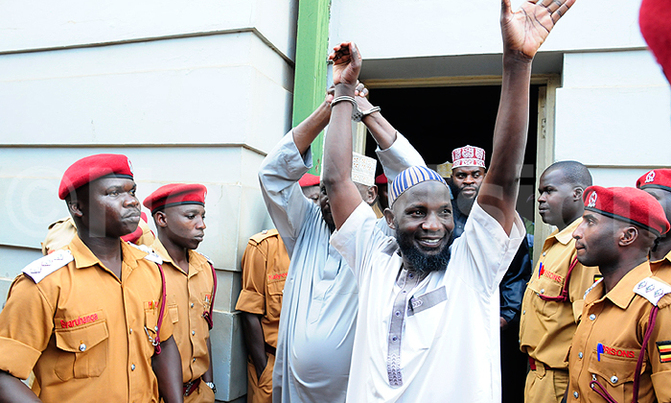 A judgement date will be set when court sits on May 26.
Jailed Muslim Tabliq leader Sheikh Yunus Kamoga and 13 others, are on May 26, expected to confirm their final submissions in the case where they are accused of terrorism and murder of Sheikhs Mustafa Bahiga and Ibrahim Kirya.

On Tuesday, a panel of Justices Ezekiel Muhanguzi, Percy Night Tuhaise, and Jane Kiggundu, directed that both the prosecution and defence must confirm their bids for a conviction and acquittal on May 26.

A judgement date will be set when court sits on May 26.They purportedly committed the offences between June 2013 and December 2015

Accused: Sheikh Siraje Kawooya, Sheikh Muhammad Yunus Kamoga, Sheikh Murta Mudde Bukenya, Sheikh Fahad Kalungi, Amir Kinene, Hakim Kinene Muswaswa, Yusuf Kakande, Sheikh Abdulsalam Sekayanja, Abdulhamid Mubiru Sematimba,Hamza Kasirye,Twaha Ssekitto,Rashid Jjingo, Musa Issa Mubiru, and George William Iga

Prosecution lawyers: Lino Anguzu, Thomas Jatiko, and Rachel Bikhole, and Marion Ben-Bella.

Defence lawyers: Fred Muwema, MacDosman Kabega, Roberts Kagoro, Twaha Mayanja, Alen Kagoya, Silvia Namawejje, and Charles Nsubuga.​