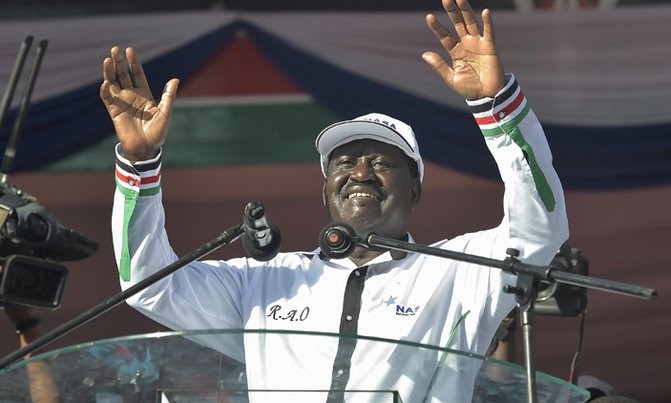 Former prime minister Odinga, 72, was named presidential candidate by senior leaders of the National Super Alliance (NASA)
Kenya's opposition lined up Thursday behind a single candidate, veteran political leader Raila Odinga, in an unprecedented step to strengthen their challenge to the government in August's polls.

Former prime minister Odinga, 72, was named presidential candidate by senior leaders of the National Super Alliance (NASA) at a large rally in the capital Nairobi.

Odinga will, for the second consecutive time, challenge President Uhuru Kenyatta in a repeat of a 2013 election that he lost in the first round.

However, this time five of the country's main opposition leaders have united, something they always failed to do previously.

Musalia Mudavadi, a former vice president who struck out on his own in 2013, said that this time he and others had "sacrificed personal ambitions" to present a united front to challenge Kenyatta and his dominant Jubilee Party on August 8.

Kenyatta countered by accusing the opposition of wanting to create a prime minister's job not provided for in the constitution.

They were doing this instead of "finding a job for millions of Kenyans who need one," said a statement from the presidency.

Tens of thousands of opposition supporters waited most of the day in Nairobi's downtown Uhuru Park to witness the declaration of Odinga as their presidential candidate.

In a repeat of the main opposition ticket of four years ago, Kalonzo Musyoka, another former vice president, was named Odinga's running-mate.

Other senior positions were divided among Mudavadi, Moses Wetangula and Issac Ruto.

The five men stood together on stage in matching white shirts and hats, dancing in loose coordination to celebrate the announcement.

"All NASA partners are equal, and one plays the role of the first among equals," Mudavadi told the cheering crowd.

Musyoka insisted the alliance would hold. "We will work with Raila to move this country forward as a team, that is why we have remained together this far," he said.

- Rival dynasties -

"This is a great honour and I accept it," said Odinga who will be making his fourth attempt to become Kenya's president after failing in 1997, 2007 and, again, four years ago.

A dispute over the result of the 2007 election led to two months of politically motivated tribal violence.

The violence left over 1,100 people dead and only ended under immense international pressure that saw Odinga named prime minister in a power-sharing government with his opponent President Mwai Kibaki.

Odinga again claimed fraud in 2013 but his challenge went to the courts, not the streets, and was dismissed.

Kenyatta is hoping to win a second and final four year term alongside his deputy William Ruto.

Both men were indicted by the International Criminal Court (ICC) in The Hague, accused of crimes against humanity for masterminding the post-election violence of 2007/08 but their cases were subsequently dropped.

Kenyatta and Odinga are from bitterly competing political dynasties in Kenya: their fathers Jomo Kenyatta and Jaramogi Oginga Odinga were rivals in the independence era and the decades that followed.

Odinga, like his father, has always coveted but never achieved the country's top job, while Kenyatta followed in his father's footsteps when he became the country's fourth president in 2013.

The rivalry reflects tribal divisions in Kenya with Odinga's Luos commonly complaining that Kenyatta's Kikuyu community has monopolised power for its own gain.