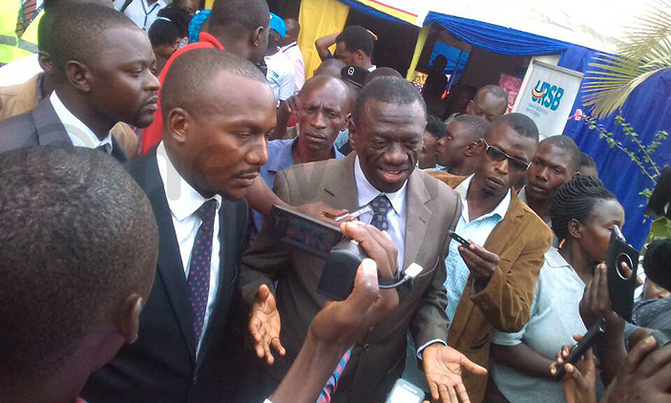 The presiding Judge in the 2016 suit ordered that fresh elections be conducted
The Court of Appeal has today upheld High Court's decision to nullify the election of FDC's Apollo Kantinti as Kyadondo East Constituency Member of Parliament.
High Court in July 2016 nullified Kantinti's election due to non-compliance of electoral rules in the Parliamentary Elections Act.
The case reached the Court of Appeal after Kantinti appealed court's decision to rule in the case where NRM's William Sitenda Sebalu sued Kantinti, the Electoral Commission and the Wakiso district returning officer Sarah Bukirwa.
In the suit, Sebalu accused the three defendants of conniving to commit several irregularities which affected the quality of the election in Kyadondo East in the 2016 general elections in a substantial manner.
Background
Following the nullification of the elections in 2016, the presiding Judge Isabirye Kaweesa ordered that fresh elections be conducted after ruling that the variation of the results due to the irregularities affected the results.
"Failure to conduct elections under the principals of the law by EC prompts me to set it aside and order for fresh election to be conducted," he ruled.
The presiding Judge also ordered EC and Wakiso district returning officer Sarah Bukirwa to pay costs of the petition.
The Judge stated that returning officer Bukirwa disenfranchised voters and failed to secure custody of election materials by failing to account for the whereabouts of declaration forms from seven polling stations in the constituency.
Kaweesa also faulted Bukirwa for failing to file a police report in relation to the said seven polling stations whose results she unfairly and unilaterally cancelled.
He noted that the acts of EC, Kantinti through Bukirwa were illegal, adding that it led to a conclusion that the voters did not have their votes accorded legal weight, and hence did not see the fruits of their efforts.
"The voters were entitled to vote but were deprived of their rights when the returning officer cancelled their votes," Justice Kaweesa added.
According to the Judge's situation analysis, the margin between the winner and the loser in terms of votes was lowering by the time MP Kantinti emerged victorious, adding that there was a likelihood that even the results would reduce further.
"There is a possibility that even the votes taken as invalid were counted, the margin would have narrowed further and definitely the all results would have been changed.
The Judge further expressed concerns about the quality of work done by presiding officers in Kyadondo specifically a one Sempebwa Kato, the presiding officer of Manyangwa TC polling station who confessed on oath that he signed declaration forms before the commencement of the voting exercise.
This prompted him to rule that such circumstances of erroneous entering of results in declaration forms made it difficult to ascertain the winning margin between contenders of the election where Kantinti was declared winner with 9005 votes and Sebalu as second runner up with 8679 votes.