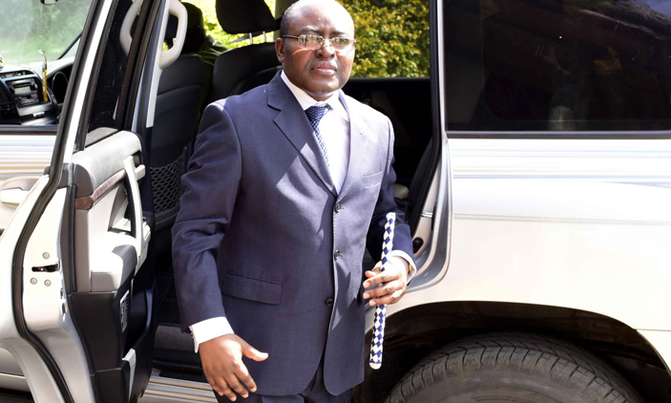 In January, the High Court in Jinja released the Rwenzururu King on bail under strict conditions
Members of Parliament on Internal Affairs Committee on Tuesday put the Minister of Internal Affairs, Gen. Jeje Odongo, to task to explain why Rwenzururu King Charles Wesley Mumbere has is under 'house arrest'.
According to the MPs, since his release on bail, Mumbere has remained under house arrest unlike other citizens freed on bail.
"May we know why the Rwenzururu King is under house arrest despite being freed by Court? He cannot be accessed. He even has no phone," MP Muwanga Kivumbi complained.
In January, the High Court in Jinja released Mumbere on bail under strict conditions. Mumbere who is currently facing charges of Terrorism, murder and others was slapped with travel restrictions to Kasese, Kabarole and Bundibugyo districts.
Last month, Police clashed with a group of religious leaders who travelled to Muyenga, his official residence. They were denied access but later allowed to meet his wife Agnes Ithungu outside the gate.
Kivumbi also raised concerns over the criminal gangs dropping leaflets in several parts of the country particularly in Buganda region with names of individuals they plan to kill.
"The population is currently terrified about these gangs. They have actually gone ahead to kill some of the individuals they have on the list. The minister in charge has remained silent. Are you in charge or not?" Kivumbi asked.
Odongo however declined to comment on the matters but asked the committee to ask Police when they appear on Wednesday to defend their budget.
"Police is scheduled to appear before the committee tomorrow. Let them answer some of these questions," he said.
The minister accompanied by officials from the Internal Affairs Ministry were appearing before the committee to defend their budget for the next financial year.