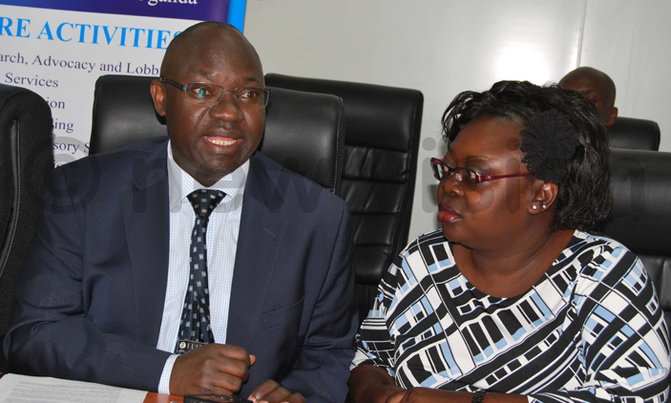 Activists want the matter brought before court
Human rights activists have blamed Police for frustrating a sexual assault case against the proprietor of Hilton Hotel (Aya Group), Hamid Mohamud, filed by the alleged victim, Jamila Opondo, a former employee at the hotel.
The activists under several Civil Society Organisations (CSOs) now want the matter, brought to court for a fair hearing.
"Whereas the law provides in criminal matters that the state will prosecute, it also gives as a matter of last resort, an opportunity for individuals to undertake private prosecution where there is reluctance of the state (Police) to prosecute for whatever reasons," said Dr. Livingstone Ssewanyana, the executive director Foundation for Human Rights Initiative (FHRI).
He was speaking at a press conference on the ill-treatment of Ugandan workers by foreign investors held at the FHRI boardroom, last week.
Opondo's ordeal came to light when Herbert Kabafunzaki, the Minister of State for Labour, Employment and Industrial Relations visited Mohamud at Hilton Hotel in Nakasero, an upscale city suburb to ascertain the sexual claims.
However three days after the visit, Police arrested Kabafunzaki for allegedly soliciting a bribe from Hamid. Opondo had reported the allegations of sexual harassment to Police but when she realised that investigations were taking long, she decided to approach the minister.
Opondo at the press briefing told journalists that two weeks after she had joined the company, Hamid performed sexual acts on her against her will and threatened her if she ever disclosed it.
It is against this background that Ssewanyana said they are pushing for the matter to be brought to court.
"As far as we are concerned the suspect has not been arrested. He must be charged, must appear in court and as an individual has a right to be heard or granted bail but ultimately, he must answer the charges being brought against him," Ssewanyana added.
When contacted, Kampala Metropolitan spokesperson Emilian Kayima said Hamid was given bond after he physically went to Police to record a statement.
Kayima who confirmed that the victim recorded a case of physical assault at the Central Police Station and sexual assault at Old Kampala Police Station said that the files are currently with KMP Criminal Investigations Department officers who will then advise the way forward.
At the same briefing another woman who said she was sexually abused by her boss at Shell Jinja Road petrol station said when she reported the matter to Police; the officers in charge frustrated her.
After confiding in her pastors on the matter, she was advised to pray and fast about it in vain.
Women activists speak out
Perry Aritua, executive director Women's Democracy Network
Parliament needs to pass the sexual offenses bill immediately to curb this growing vice among employees. Currently, insulting the modesty of a person carries a one year sentence which is a big joke. If we do not penalize criminals of sexual assault, this will become a normal thing in our society.
Miria Matembe
Listening to these women's narrations reduces me to tears. So many women in this country are being dehumanized in their line of duty and are being turned into nothing.
I am sure there are men being sodomized in these factories but are afraid of speaking out. If these so called investors have resorted to dehumanizing our people then they should park up and go.
Tezira Jamwa, board chairperson Uganda Women's Network
Mistreating women in their work place is a direct attack on gender equality and women empowerment.
Jamidah Namuyanja, Legal Aid Service Providers Network
We welcome foreign investors but let us observe the rights of employees and ensure culprits are apprehended and brought to book.