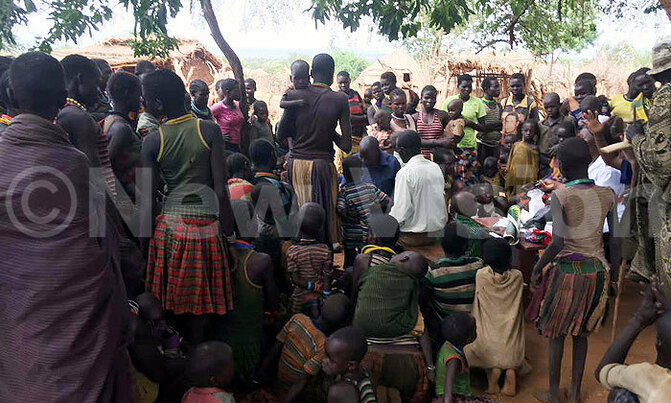 A team of specialists, nurses and volunteers conducted the exercise over the weekend.
More than 500 people have received free health services during a Health Camp organized by Adventist Youth with a Mission International in Napak district.

As part of the health camp, free consultations and medicines were given to all those who attended.

A team of specialists, nurses and volunteers conducted the exercise over the weekend.
Children await medication during the camp. (Credit: Geoffrey Mutegeki)

According to Dawson Okum the program coordinator some of the health services offered were; general body checkup and treatment, jigger infestation treatment and malaria testing and treatment.

The youth also offered fumigation services to households, career guidance to school going children and gave out scholastic materials.

"We want to see the people of Karamoja in good health, we want to put a smile on their faces," Okum said.
There was demonstration on how to properly use mosquito nets

The locals were also sensitized on the use of mosquito nets which were found to be misused by majority of the locals.

"Some of them were using mosquito nets to cover their sorghum in the granaries and others use them as door curtains. We had to teach them on how to use, them," said Susan Kabakondere

Malaria is still one of the leading causes of death in Uganda.

The youth also carried out fumigation activities where they helped treat people with jiggers. Over 150 children were also dewormed.
Career guidance was also part of the camp

The LCI Nakayoti village John Lamoigin commended the youth for supporting the locals and asked government to provide them with better water and health services.

"Malaria has been disturbing us as people continue misusing nets, but with this support and sensitization we believe we will make amends," Lamogin said.

He revealed that they closest health facility to them is about 30 kilomenters in Napak town which is a not easy to access by the majority.

Ruth Atino, the head teacher of Namorotot Primary School, was delighted with the career guidance and scholastic materials that the youth offered to the children.