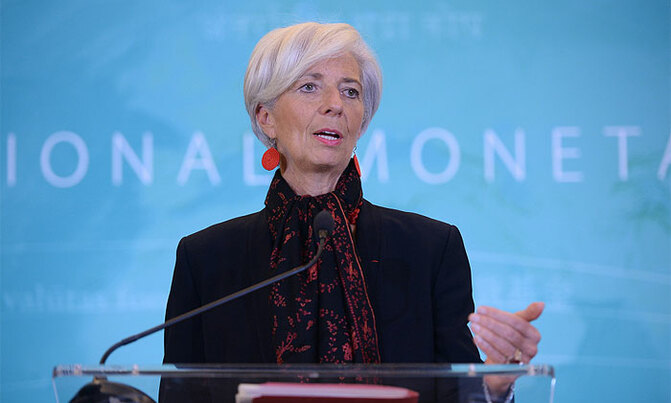 "This sentiment of populism in the views of many is fueled by the feeling of being excluded, or being left out," IMF managing director Christine Lagarde said Thursday night.
As the global recovery gathers pace, the IMF is turning up the volume on its call for wealthy countries to address popular anger over the impact of globalization and head off the threat of protectionism.

The renewed push comes as finance ministers from 189 countries gather for the fund's semiannual meeting Friday and Saturday, in a tense atmosphere of rising anti-trade rhetoric in many advanced economies.

"This sentiment of populism in the views of many is fueled by the feeling of being excluded, or being left out," IMF managing director Christine Lagarde said Thursday night.

"What better than more growth, more equitably shared, in order to respond."

The fund for years has been calling for countries to drive towards what it calls more inclusive growth with programs to help those hurt by globalization and trade -- including safety nets for those who lose their jobs -- but typically it has centered on developing nations.

Now the focus is on advanced economies and the message has taken on greater urgency, amid anti-internationalist sentiment evident in the election of US President Donald Trump, in last summer's British vote to leave the European Union and in the bitter French election campaign.

Lagarde repeatedly has stressed that giving in to protectionism will not help those on the margins and in fact will make matters worse by driving up prices and eroding global growth.

But as the IMF raised its forecast for global economic growth to 3.5 percent for this year -- a rare upward revision -- Lagarde said it is time to address these concerns from "an economic point of view," to help spread the benefits of growth to marginalized groups.

Developing countries concerned

And now instead of advanced economies warning about problems in the developing world, it is the turn of developing nations to be concerned about the rising wave of protectionism in the world's major economies, that could undermine the gains from global trade.

The protectionist complaints coming from advanced countries are particularly jarring for emerging markets that incurred huge costs and public anger in their efforts to reform their economies to compete in a global market.

The developing nation caucus at the IMF, the Group of 24, said in their communique that their members have benefitted from trade but only after "bearing the cost of adjusting to competitive pressures and technological change."

Now they warn that "A likely rise in inward-looking policies in some (advanced economies) poses a substantial source of risk to the growth prospects" of emerging markets and developing countries.

They called for strong efforts to "preserve an open and rules-based global trading system, and ensure that its benefits are widely shared."

And Brazil Finance Minister Henrique Meirelles said in his statement to the IMF meeting that addressing the "perception of unfairness" in the world economy is "crucial to garner political support for furthering global integration and productivity. "

'New thinking'

Former India central bank chief and IMF chief economist Raghuram Rajan said the legitimate concern in advanced economies "reflects a cry of anger and for help."

Governments should respond with "broad-based rehabilitation" of communities hurt by lost manufacturing -- a situation nearly entirely due to technological advances rather than trade, even though trade is blamed, he said.

"We need to think seriously about rebuilding these communities... to lift up the forgotten man," Rajan said in a lecture at the IMF entitled "Popular Insurrections," which Lagarde attended.

That echo of Trump's campaign promises means helping the majority white male community as well as the inner cities, by bringing economic activity, he said. But this requires funding and "new thinking."

German Finance Minister Wolfgang Schaeuble said early Friday "we can only tackle the big challenges of our times" with "stronger international coordination."

"And for this we need the US," he warned.

But for the moment the Trump administration is focused on aggressive rhetoric, attacking individual countries that have trade surpluses with the United States, including Germany, as well as China and Mexico.

White House economic adviser Gary Cohn said Thursday the United States was only seeking "fair" treatment, so tariffs on US exports would be met by a tariff on imports from that country.

"We treat you in reciprocal fashion. That is fair," he said.