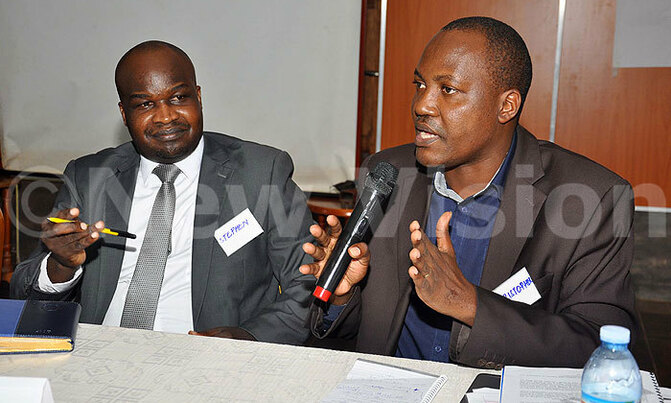 "The promulgated NGO Act 2016 was done in bad faith," says Prof. Christopher Mbazira.
PIC: MUK's Prof. Christopher Mbazira (right) and Stephen Okello of National NGO Bureau address participants during the regional meeting on oil and gas sector in the region. (Credit: Francis Emorut)

KAMPALA - Prof. Christopher Mbazira, a lecturer of law at Makerere University, has clashed with a government official over the promulgated NGO Act 2016, saying it was done in "bad faith".

"The purpose is to stifle civil society rather than promoting democracy," said Mbazira.

He was speaking during a regional meeting on advocacy and civic space for civil society organizations in the oil and gas sector in East Africa in Kampala.

The regional meeting was convened by Global Rights Alert (GRA).

Mbazira presented a draft report titled: 'Assessing the Implications of the NGO Act 2016 on NGOs working addressing Natural Resource Governance in Uganda'.

He pointed out that some resident district commissioners have always interfered with civil society work under the guise of security interest.

Mbazira also criticized the Public Order Management Act (POMA), saying the Police have many times misinterpreted the law and denied citizens the right of assembly as prescribed by international standards.

He called upon the Uganda Law Reform Commission to review some of the draconian passed laws.
The executive director of Global Rights Alert Winnie Ngabiirwe (right) and another participant listen to Patrick Tumwine, the advocay officer of Human Rights Network during the meeting. (Credit: Francis Emorut)

The don proposed recommendations to address mistrust between the NGOs and Government and these include an urgent need to build the capacity of all stakeholders involved in the implementation of the 2016 NGO Act, the government should improve its legal framework for the regulations of NGOs by borrowing the best practices from comparative jurisdictions and a need for a process that results into an independent NGO bureau and not having executive appointees.

Stephen Okello, the executive director of the National NGO Bureau, disagreed with the lecturer, saying the law was not made in bad spirit as there was wide consultation by different stakeholders.

He informed delegates that the law is not meant to stifle civil society but the latter should work according to the regulatory framework.

Okello emphasized that Uganda was undergoing new regulatory transformation since 2007 and there was no cause to worry.

The executive director GRA Winnie Ngabiirwe appealed to government to work in harmony with civil society in defending the rights of the vulnerable in society.

On his part, the DPC of Buliisa John Rutaagira defended the Police Force, saying they are only implementing the law which was passed by Parliament.