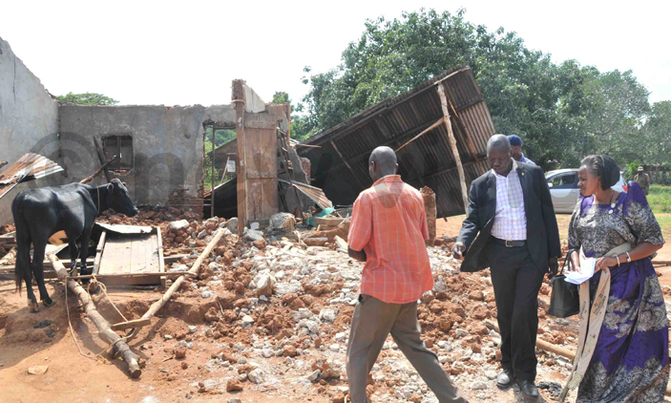 MPS delivered food relief from the Office of the Prime Minister to the affected people
Police have confirmed two people died in the heavy rains that hit Buvuma district last week leaving many injured and homeless.
Buvuma District Police Commander, Rogers Cheben, identified the deceased as; Teopista Nansubuga, 38, and her 8-month-old baby, Mark Akoke, who were residents of Lwaje Sub County.
Cheben said that Nansubuga's husband Pastor David Akoke, who was also in the house at the time, was hospitalised with severe injuries.
Busamuzi and Buvuma were equally affected by the rains.
On Friday, Buvuma MPs Jennifer Nantume and Robert Migadde delivered food relief from the Office of the Prime Minister to the affected people.
The food was received by Buvuma Resident District Commissioner, Lilian Nakaweesi and Cheben.
Hasfa Nanfuka, a resident, said her family was forced to flee from their houses in the dead of the night iron sheets were blown off during the storm.
"The whole house was destroyed beyond repair. We lost almost everything which was in the house, some appliances were destroyed by the rain water yet others were broken by the falling debris," she explained.
Justine Nambuto said their three children were found injured when recovered the destroyed house they lived in.
"Apart from the houses, we also lost plants like maize, beans, bananas and other crops. Unfortunately, we had lost most our farm plants last season due to the long dry spell," Nambuto said.
Residents asked government to come for their rescue with construction materials like iron sheets and timber.
They also said the food which was distributed to them was so little. On average, residents received three to four kilo grams of rice.
Nantume asked residents to kindly receive the rice as they continue persuading government for more relief in form of blankets, iron sheets, clothes and many others.
Migadde thanked government for the timely response to the outcry of the residents. He however said that the victims need relief beyond food such as construction materials to help reconstruct their houses.