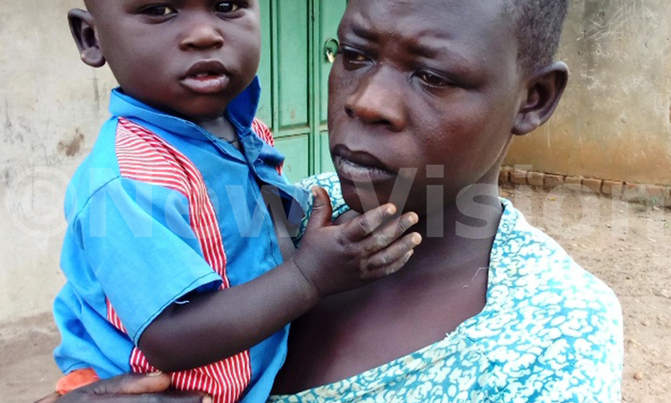 Apila said she wanted to end her life because her husband, Justine Otage,43, abandoned her and her four children without any help.
Police in Amuria district is holding a 32-year-old woman for allegedly attempting to commit suicide during Easter Sunday.


Agnes Apila a resident of Abia village in Akore parish Ogolai Sub County is alleged to have picked a rope that she used for tying firewood inside her grass thatched hut and ran to the swamp to commit suicide.

The tamarind tree in the swamp that Apila hanged herself is reported to be about 240meters away from her home.


Apila said she wanted to end her life because her husband, Justine Otage,43, abandoned her and her four children without any help.


"My husband left me and went to stay with his sister, Jenifer Amulo in Abim district since last year , I have been suffering a lot with these children," Apila said.

Apila explained that it was until the clan called for a meeting on Holy Saturday that Otage appeared to try to resolve the matter.

After the meeting, Apila said, her husband again forged a statement accusing her of stealing his cap something which disappointed her the more making her run to the swamp to end her life on Easter Sunday at around 7am.

The family wrangle according to Apila started in 2016 though they got married in 2001.

Three people; William Ekadu (clan leader), Ben Asapa and Calvin Omede said, they rushed to rescue Apila after her children came running to the home of the clan leader crying that their mother has run to the swamp with a rope.

"We rushed there immediately and found her hanging around six meters up in the tree swinging to dying point , I climbed and cut the rope with a panga and she fell down unconscious," Omede said.

Otage in his defence said, he abandoned his wife because she was involved in extra marital affairs with several men until she even produced a boy with one of them.

"We have finished six years without uniting as husband and wife because of her extra marital affairs ,I even left to stay with my sister in Abim last year, "he said.

According to Otage, the Karamojong cattle keepers damaged the garden of cassava that he had planted purposely for helping his children and their mother whom he had left behind.

Area residents reported that Apila attempted to commit suicide when her husband had gone to see the LC-1 Chairperson, Justine Odieny so that she (Apila) is returned to her father's home.

Joyce Asio the OC CID Apeulai police station confirmed receiving the case of attempted suicide under file number CRR-10/2017

Asio said she sent her policemen to go and pick Apila after she was rescued by the locals and was later on Sunday sent to Amuria Central Police Station over charges of attempted suicide.

Asio analyzed that Apila wanted to commit suicide due to domestic violence

She is currently being held at Amuria CPS for more investigations before she is produced before court.

The East Kyoga police spokesperson, Michael Odongo recently confirmed receipt of thirty cases of deaths related to domestic violence last year alone.

Amuria and Katakwi districts were leading in deaths as a result of domestic violence arising from mostly extra-marital affairs and unfaithfulness besides drunkenness according to police.

About four cases of these deaths were reported to police in Amuria district alone this year ,followed by Katakwi.