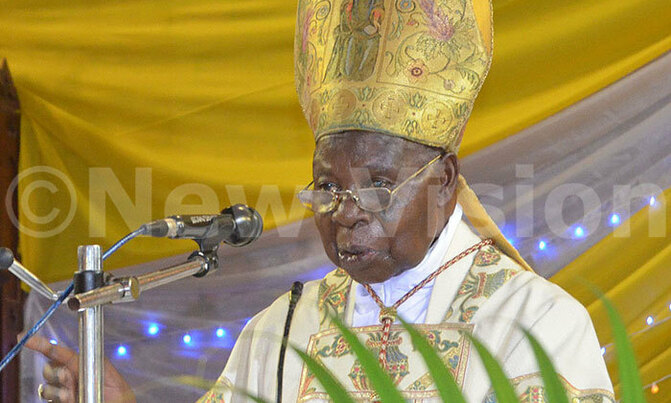 Emmanuel Cardinal Wamala laments the attitude of mistrust and suspicion that many people had towards government institutions.
(Credit: Mathias Mazinga)

KAMPALA - The Archbishop Emeritus of Kampala Archdiocese, Emmanuel Cardinal Dr Wamala (pictured) has asked Ugandans to respect the institutions of government.

He lamented the attitude of mistrust and suspicion that many people had towards government institutions like the Police and Judiciary, arguing that if the status quo was maintained, the country would slide into total anarchy and confusion.

"When you consider the bizarre things that are continuing to happen in our country since we got our national independence, you will not fail to cry over our beloved Uganda," said the elderly clergyman.

"It disheartens to hear learned people like the lawyers threatening to drag government to court because it has refused to pass the so called safe abortion law! For whom is it safe?

"A child becomes a human being at conception and that child has a right to live. Abortion is thus real murder and cannot be justified."
Makindye West MP Allan Ssewanyana was part of the congregration on Sunday

Wamala was delivering his Easter homily at St Peter's Catholic Church, Nsambya.

"The sub-culture of mistrusting and disrespecting government institutions has also become a big challenge. We all know that institutions are the foundation of a democratic and progressive country. But today people generally don't respect institutions like the Police, the Judiciary and Parliament.

"People even beat and kill the security officers! Now who will maintain your security? Who will give you justice if you don't respect the judiciary?" he added.

The prelate later asked Ugandans to have respect for each other, arguing that Uganda has always held the reputation of respect and hospitality for the people.
The choir of St Peter's Catholic Church, Nsambya led the singing

Wamala asked Ugandans to use the Easter season to transform their spiritual life.

He also asked them to live out their Christianity by shunning evil practices like hatred, murder, tribalism, corruption and violence. He later called for a new culture of unity and solidarity, which will enable all Ugandans to live together in unity and harmony.

The mass was also concelebrated by the parish priest Fr. Joseph Ssemada and Fr. Lawrence Kibuuka.

The area MP Allan Ssewanyana was among the many Christians that attended the mass.
After service, Emmanuel Cardinal Wamala chatted with MP Ssewanyana and Justice Remmy Kasule