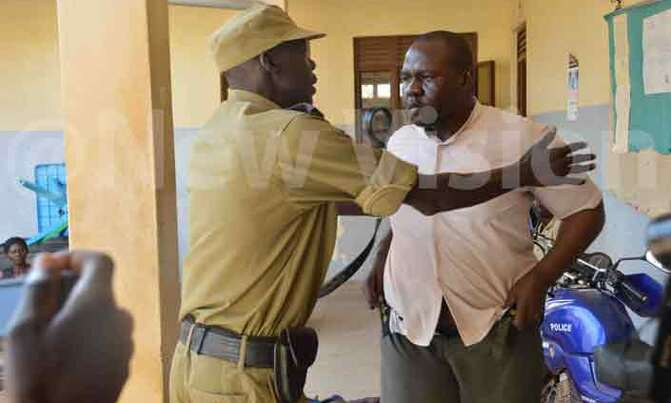 Last year, six suspected quack medical practitioners were arrested in Agago for allegedly operating illegally and they are still at Agago Prison.
Story and pictures by Robert Okwir and Jasper Awio

Five quack doctors have been arrested in a joint operation conducted on Tuesday by a team of Agago district officials, Allied Health Professional Council and Police.

The team also closed three clinics, four drug shops and a pharmacy for operating without authorisation. Some of the suspects include Wilson Kadde of God's Providence Medical Centre and Pharmacy, Denis Ojok and Josephine Akello of Savanah Integrated Medical centre, Richard Ogwal of Savanah medical clinic and Moses Amor of Agago Integrated Clinic.

The team also picked up two people they said were not qualified, but were found operating as nurses. They include Betty Adong and David Ojokol.
The Agago district health officer, Dr. Emmanuel Otto, says that they picked up the suspects because they found them operating illegally.

He says that during the operation they found the suspects treating patients with expired anti-malarial drugs and selling government drugs.

Dr. Otto explains that because the suspects are not qualified and they use expired drugs, this could have adverse effects on their unsuspecting victims.

Peter Nyamutale, the Deputy Registrar of the Allied Health Professional Council Uganda says most of the suspects were found operating without an operation license in breach of the public health Act. He says the suspects face a maximum of 10 years in jail, once convicted by court.

Thomas Abal, the coordinator of Allied Health Professional council Uganda in Acholi sub-region says, most of the time patients who seek treatment in private medical centres have been dying so this prompted them to investigate the cause of these multiple deaths.

Collins Omuwa, the Officer in charge Agago central Police station told New Vision that they were still recording statements from the suspects before they arraign them to court.

He said the suspects will be charged with operating illegally contrary to the Allied health professional act, violation of public safety act and dispensing expired drugs. He further warned those operating illegally that the operations shall continue.

But Wilson Kadde, one of the suspects says that he is a qualified medical practitioner from Mbarara University of Science and Technology and graduated as a medical doctor in 2015, despite the fact he didn't have documents to prove his claims.

Kadde told the team that his arrest is due to business rivalry, but he did not mention who is against him. Dr. Emmanuel Otto, however, denied having seen Kadde at Mbarara University of Science and Technology because he completed in the same year Kadde claims he graduated.

Last year, six suspected quack medical practitioners were arrested in Agago for allegedly operating illegally and they are still in remand at Agago prison.