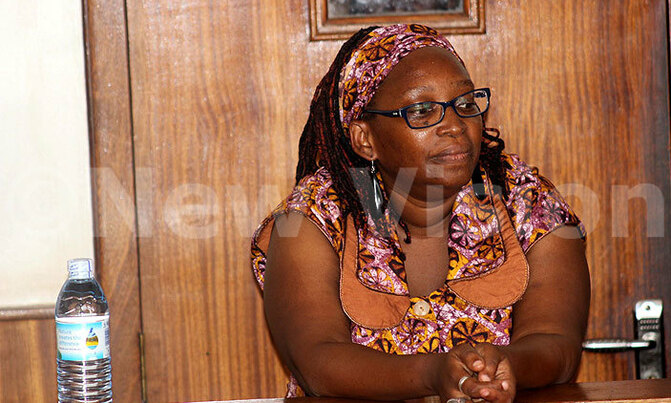 She is already involved in teaching English to inmates
Dr. Stella Nyanzi

Makerere University Don and activist Dr. Stella Nyanzi is coping well at Luzira Prison. She is already involved in teaching English to inmates, according to a relative who is updating her facebook page.

According to her facebook page, Nyanzi's fellow inmates are teaching her how to sew. She showed her visitors who went to check on her ahead of the Easter weekend a handcraft piece that was in its initial stages.

"Today being the last day of the week that Stella could entertain visitors, many people went to see her ahead of the longer than usual weekend. Seated on a mat in her yellow dress, she seemed unfazed by her current reality; she told inmates jokes and made us all realize that she is coping well.

Stella showed us a handcraft piece that's in its initial stages- and told us a fellow inmate is teaching her how to sew. She shared her surprise at the amazing crafts talent exhibited by the women in Luzira prison and wondered why nobody is tapping into this space to help these women grow both their skills and revenues. To support them, she purchased a number of handmade mats, one of which she was seated on during our visit, several baskets and a shoulder bag" read the facebook post.

Though she is going to be away from her young family during Easter, she is not broken.

"When we posed this question, we anticipated that she would have reservations about spending Easter away from her family but her response re-assured us, and hopefully it can reassure you all, that she is strong and focusing on continuing to impart knowledge, one way or the other," read the post.

Meanwhile family members and friends have opened up a GoGetFunding page to help cover legal costs that have arisen from the charges lodged against her by the state, and to keep her family taken care of.
The goal is to raise $ 5000 before Stella's next court appearance on April 25, 2017. An MTN number 0784447487, registered in the name of Ruth Muganzi will also be receiving contributions towards the same causes.
Buganda Road Court Chief Magistrate James Ereemye remanded Dr Nyanzi until April 25 pending determination of the State's application to subject the accused to a mental test as the State had requested.