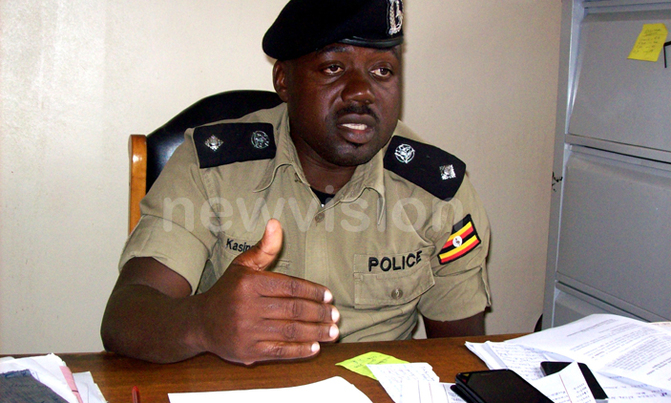 DPC Kasinga condemned the act.
Police have arrested two of its own officers for reportedly torturing a suspect to death.

The suspects in custody are Julius Ndyomugyenyi and another only known as Tumusiime attached to Kibuuka police post in Lwamaggwa sub-county.

Hashim Kasinga, the Rakai District Police Commander, confirmed the arrest saying they are being detained at Rakai police station with their file pending investigations.

Sources within police told New Vision that Lwanyaga was arrested on Tuesday and tortured in the cells where he died two days later.

It is said that the deceased identified as Godfrey Lwanyaga had been arrested and detained at Kibuuka police post over an unpaid debt of 150,000 shillings.

An unknown resident had reportedly filed a case at the police post claiming Lwanyaga owed him the said amount which caused his arrest.

Eyewitnesses said that upon arrest, the officers led by Ndiomugyenyi pounced on Lwanyaga and flogged him without any explanation.

Deo Ddamba, the Kibuuka LC1 Chairperson, said that they continued whipping him as they dragged him to their station.

Being a fellow resident no prior bad record, Ddamba decided to go the police post to seek a bond for him.

However, the Ndyomugyenyi reportedly told him to leave before he faced the worst of him.

Following Lwanyaga's death, residents staged a protest with several groups storming the police post threatening to demolish it and lynch the accused policemen.

However, several district leaders and police intervened to calm the situation and later arrested the two officers.

A post mortem report by Dr. Yasin Lubega of Rakai Hospital confirmed he died of too much pain. He said that the deceased's body was badly bruised as though he had been attacked by a mob.

DPC Kasinga condemned the act, saying he's handling the case without fear or favour for the accused officers.