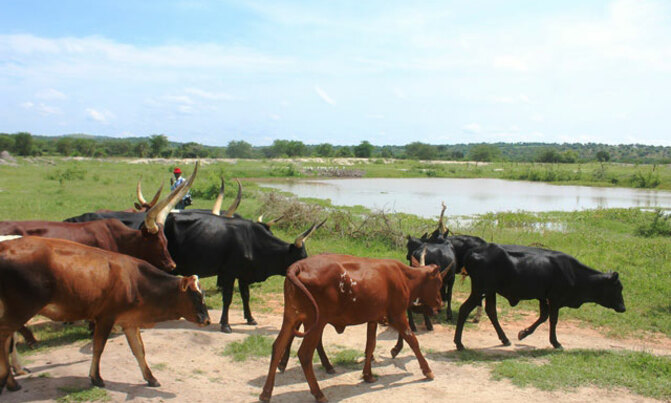 The dams which measure 50X50(width) and three meters (depth) are for harvesting rainfall as drinking water for cattle.
PIC: Long-horned Ankole cattle heading to one of the dams to drink water

For over a decade now, the farming community living around Lake Mburo National Park has been in a bitter relationship with Uganda Wildlife Authority (UWA).

The conflict is rooted to unending inter-human-wildlife conflicts as caused by UWA's failure to control wildlife from invading and destroying their subsistence gardens of food crops (especially bananas and beans). Furious, many locals have poisoned wildlife due to lack of compensation for their loss. In retaliation, the park authorities have arrested and jailed suspected culprits.

In a bid to restore a harmonious relationship between the two parties, the African Wildlife Foundation (AWF) is constructing 10 valley dams for communities around the park.

The dams whose construction costs sh15m each is being funded by United States Agency for International Development (USAID) through the Uganda Biodiversity Program.
Pastoralists interacting with US ambassador to Uganda Deborah Malac


The dams which measure 50mX50m (width)and three meters (depth) are for harvesting rainfall as drinking water for cattle. Over 400 pastoral households live in this community whose population is estimated by UWA to be over 13,000.

Founded in 1961, AWF is a continental conservation organization whose prime objective is protecting large landscapes in a way that benefits wildlife and people alike.

According to the organization's President Kaddu Sebunya, the intervention is meant to address the problem of water scarcity and tackle the spread of diseases from wildlife to domestic animals and vice versa.

In acknowledgement of Kaddu's observation, UWA executive director Andrew Seguya says most farmers heavily depend on the park especially for water— as they are out of options.

"This in turn fuels the spread of diseases such as anthrax thus endangering the park's rich biodiversity."
USAID's head of economic growth receives a token of appreciation from AWF's president Kaddu Sebunya. Looking on is US ambassador to Uganda Deborah Malac and minister of tourism Ephraim Kamuntu

According to Mwebaze Johnson, 43, one of the beneficiaries of the project, the dams have a water retention capacity of about two months. While this is a promising solution, its effectiveness is limited as the area is dry for much of the year. In this regard, Prof. Ephraim Kamuntu, the minister of tourism, wildlife and antiquities has implored USAID to donate water pumps that can be used to power the dams all year.

While appreciating the donors for the six valley dams so far constructed, Kamuntu based his request on the fact that the US government has supported biodiversity conservation work in Uganda since the 1980s.

One key aspect of its support is building awareness among the public about the importance of natural resources and their critical contribution to improving livelihoods. This is with the view of challenging them to take action that would positively contribute to better conservation.

"A crucial component of the public are the youth who are the majority of the visitors to Lake Mburo National Park," said the minister.

In her response, US ambassador to Uganda Deborah R. Malac, on behalf of her government, has pledged to look into Kamuntu's request.

While gracing the handover of a fully equipped and renovated Conservation Education Centre (CEC) at the park to UWA last Monday, Malac noted that the American Embassy in Uganda appreciates that protected biodiversity areas are key for efforts to conserve endangered species and ecosystems.
Some of the accommodation available inside the park
Preservation can help reduce the risk from natural disasters, counter the effects of climate change, and maintain ecosystem services. The areas play a crucial role to ensure food security, provide economic opportunities and maintain healthy populations.

"It is partly against this background that USAID funded the construction of the school (conservation center) in 1998."

Sam Katugunda, LC5 of Kiruhura district, notes that since 1998, the centre receives over 20,000 students annually but had never received a major refurbishment, and some of its equipment were in a state of disrepair.

The concluded rehabilitation especially focused on improving the kitchen and the equipment that help in delivering conservation education to students who visit. The Centre has had its old and non-functional solar system replaced with a new and improved system.

Also, its energy-saving cook stoves that had broken and posed grave danger to cooks have been replaced by new energy-saving stoves with new chimneys. Other equipment donated include a computer, a projector and a three-in-one printer.
On her part, Sheila Desai, USAID's Head of Economic Growth said their effort is inspired by the need to engage the youth and support their involvement in conservation as they are key stakeholders in environmental sustainability and wildlife conservation.

Uganda has the world's youngest population with over 78% of its population below the age of 30 and about eight million youth aged between 15 and 30.

In her speech during the handover, Malac said they believe that if this young population doesn't appreciate biodiversity and if they are not involved in its sustainable management, it will definitely pose significant challenges in co-existence with wildlife and the environment at large, on which the majority of Ugandan livelihoods depend.

"Ugandans must therefore appreciate that to achieve their economic aspirations including becoming a middle income economy, national parks, swamps, forests and waterbodies have to be protected since all sectors including agriculture, tourism and energy depend on nature (are rain-fed)," she said.