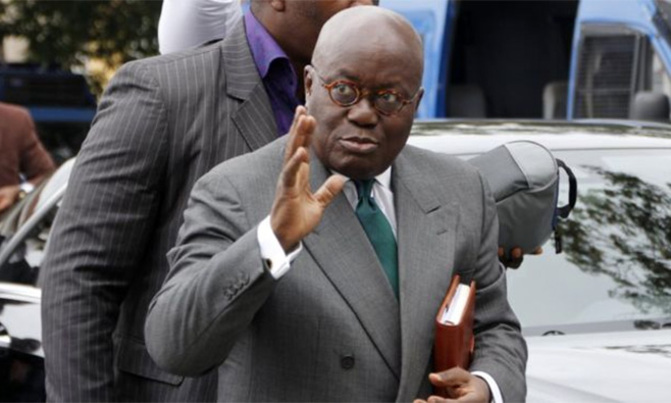 The Delta Force is just one of a handful of groups responsible for commandeering public facilities since New Patriotic Party (NPP) leader Nana Akufo-Addo won December's presidential polls.
Ghanaians were horrified when members of a vigilante group loosely affiliated with the ruling party stormed a court to free 13 members standing trial for assault late last week.

The Delta Force is just one of a handful of groups responsible for commandeering public facilities since New Patriotic Party (NPP) leader Nana Akufo-Addo won December's presidential polls.

In March, more than 200 Delta Force vigilantes attacked a regional government building, in a bid to force a senior official out.

Described as "macho men" in Ghana, vigilante groups like the Delta Force campaign on behalf of political parties. In return, they expect jobs.

With names like "Aluta Boys (wrestling boys)", "Pentagon", "Al Qaeda" or "Al Jazeera", members of the over 20 vigilante groups in Ghana tend to come mostly from poor backgrounds.

These groups have been helping mobilise voters -- sometimes by force -- since the 1970s, said Kwesi Aning, a security expert from the Kofi Annan International Peacekeeping Training Centre, a research organisation based in Accra.

The influence of the groups has risen since 2000, with the violence becoming "dramatically worse", Aning told AFP.

"They do the filthy work in the hope that you will gain political power," Aning told AFP.

"If you don't provide the jobs, then, of course, they feel let down and want to fight back."

For a country that takes its peaceful reputation seriously in a region scarred by conflict and despots, the Delta Force violence has been a rising cause for concern.

"The president will have to fight back and the only tools he has to fight back are the police and the armed forces," Aning said, warning that the "potential clash is nasty."

Speaking to local media on Monday, Akufo-Addo said the government was working to end the vigilante unrest.

"The events in Kumasi are being brought systematically under control," the president said.

"We are not wavering from the commitment that we made that we were going to serve Ghana under the conditions of the rule of law."

'Tarnishing Ghana's image'

The UN on Monday condemned the post-election violence, describing the court invasion in Kumasi, the capital city of the Ashanti region, as "reprehensible".

Mohamed Ibn Chambas, head of the United Nations office for West Africa and the Sahel, said the Delta Force group was acting with "impunity" following the 2016 election.

"These acts are likely to tarnish the image of Ghana as a model of democracy and the rule of law," the UN statement said.

Ashanti Regional Police commander Ken Yeboah said he suspects the groups are lashing out because "they feel they have been neglected".

Yeboah said that in the Ashanti region alone the Delta Force may have over a thousand members.

Police have "declared war against all vigilante groups in the country," Yeboah said, adding that security has been ramped up in Kumasi.

The violence clouds Akufo-Addo's mostly peaceful victory and smooth transition of power, hailed as a validation of Ghana's deepening democracy.

"There is a big push and a lot of pressure on the NPP government to clamp down on the violence happening," said Kwesi Koomson, an analyst at risk advisory firm Africa Practice.

"The public outroar is huge and the condemnation has come at a very loud level."

Akufo-Addo came to power after beating New Democratic Congress (NDC) incumbent John Dramani Mahama in December's election.

He dominated at the polls riding on a wave of economic discontent after Ghana suffered a currency crisis, electricity shortages and was forced to take out a loan from the International Monetary Fund.

Election observers praised Ghana's free and fair polls, despite reports of macho men intimidating voters.

In past elections, vigilantes were accused of stealing ballot boxes and attacking political opponents.