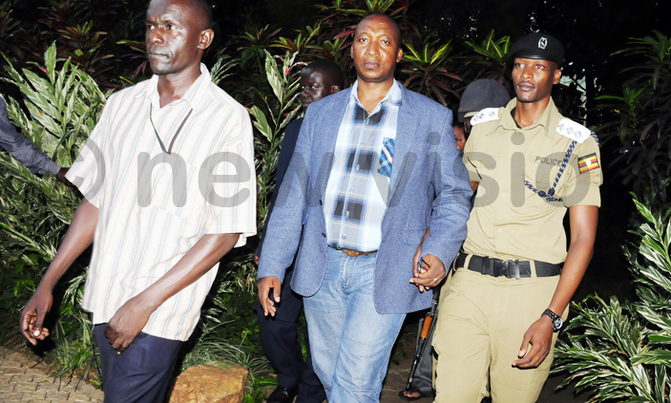 Police in Kampala arrested Kabafunzaki for allegedly soliciting a bribe from businessman Mohammed Hamid
Ethics and Integrity Minister Simon Lokodo, and a cross section of MPs, have asked embattled State Minister for Labour, employment and Industrial Relations, Herbert Kabafunzaki, to resign his ministerial post to pave way for investigations into the matter.
On Tuesday, the Anti-Corruption Court in Kampala charged Kabafunzaki with soliciting a gratification of sh15m from Kampala businessman Mohammed Hamid, of Aya Group.
Kabafunzaki who was sent to Luzira Prison on remand until Wednesday when he returns to court for bail application, however denied the charges, blaming his woes on opposition Forum for Democratic Change (FDC) party.
However in a phone interview with New Vision, Lokodo advised his cabinet colleague, to step down.
"I have already mentioned to the authorities that he should step down, in the past, we have seen colleagues like Kabakumba Matisko, John Nasasira step down when they faced accusations, so he should do the same otherwise he is likely to face impeachment by MPs," Lokodo said.
On Saturday, the Police in Kampala arrested Kabafunzaki, for allegedly soliciting a bribe from Mohammed Hamid, to conceal a case involving Hamid's staff, over sexual harassment.
According to Lokodo, it is improper for a minister to engage in corrupt tendencies, saying the government was promoting zero tolerance to corruption.
Just like Lokodo, Gerald Karuhanga, the chairperson African Parliamentarians Network Against Corruption - Uganda Chapter, implored Kabafunzaki to resign his ministerial post until he is cleared.
Karuhanga also wants Kabafunzaki's electorate (Rukiga County) to recall him from Parliament for promoting corruption, which he said is not acceptable for a leader of his nature.
"He should resign both as an MP and as a minister, as investigations into the matter continue," Karuhanga noted.
He however expressed reservations regarding Kabafunzaki's arrest, saying it could be a public stunt by government.
On his part, James Nsaba Buturo (Bufumbira County MP), the former Minister for Ethics and Integrity, also urged his colleague to resign his post, saying it will be unfit for him to serve as a minister with corruption charges against him.
"Once you take a leadership position, there are high standards that you subscribe to, just in case he is found to be guilty, he should resign because he has lost the trust of the people," Buturo said.
Despite the calls for Kabafunzaki's resignation, Cissy Kagaba, the executive director Anti-Corruption Coalition Uganda, expressed doubt of the willingness by the minister to resign saying ministers like Abraham Byandala have in the past failed to resign, when facing cases of abuse of office.
"I won't be surprised if he doesn't step aside, but it would be ideal for him to resign as investigations take shape," Kagaba told New Vision in a phone interview.