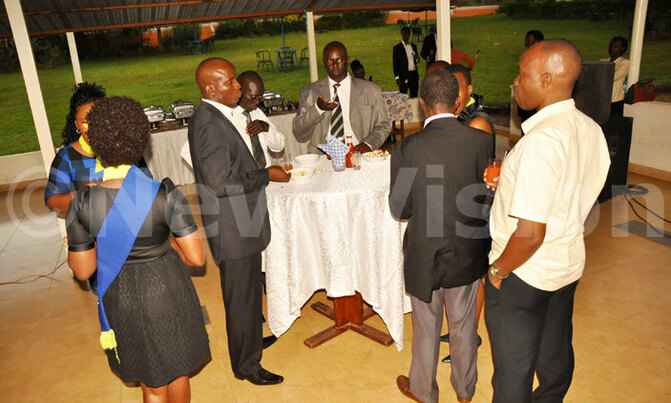 Wabwire added that by the year 2025, qualifying customers will be accessing their benefits in one day.
Richard Wabwire, the National Social Security Fund (NSSF) Corporate Secretary said that the fund embarked on implementing their 10 year plan that will among other aspects, see customers receive their benefits in just one day.

This was at an interaction cock tail party, NSSF Mukono branch threw for over 40 customers on Thursday April 6, 2017 at Colline Hotel, Mukono.

"The process has been a hectic one for many of our clients because initially, it took a customer 130 days to access benefits but presently its only eight days," he explained.

Wabwire added that by the year 2025, qualifying customers will be accessing their benefits in one day.

On the 'Retirement benefits liberalization bill' that will see NSSF get competitors, Wabwire said, the fund has no problem with it so long as it is handled with extra caution.

He also noted that from the whistle blower campaign that has been on going, the fund has cramped down on employers who don't remit employee's benefits and in the long run they have realized sh50billions.

Currently, he added that the fund is valued at Sh7 trillion shillings but they are working hard to increase it to sh10 trillion in 10 years.

However, Moses Emodu, the NSSF Mukono branch manager said the cocktail was aimed at bridging the gap between the fund staff and the customers in order to serve them better.

"It's important that we work together in harmony, get to know each other and iron out our customers concerns," he said.

Emodu added that the customer connect week set to kick off on Monday April 10 to 30, 2017.

According to Emodu, the week is going to be an interaction period between the NSSF staff and customers at their work places.

"We are going to pitch camp at different work stations of our clients in Mukono, Lugazi and Buikwe to serve them better," he asserted.

Activities will include; registering new clients, issuing statements and answering queries among others.

He continued that they will also have sessions with the special needs customers through interpreters.
Apart from answering their queries, together they will forge a way forward of serving them better.

The customer connect week will involve the NSSF staff fulfilling their corporate social responsibility (CSR).

"We have teamed up with our colleagues in Mbale, Jinja, Mbale and Soroti branches to renovate the dilapidated maternity ward of Soroti hospital at a cost of Sh80millions," Emodu explained.