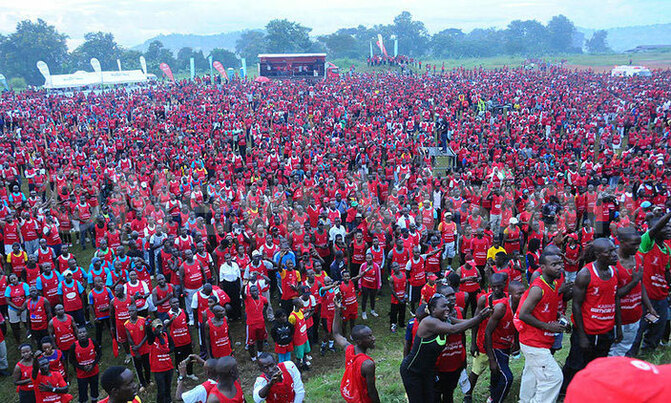 After contributing to fighting fistula during last year's Kabaka birthday run, Buganda Kingdom last year announced it would fundraise to fight sickle cells.
On Sunday, hundreds of Ugandans will be taking part in Kabaka's birthday run. The proceeds from the event will go into fighting sickle cell in Uganda.

In honour of her late daughter Maria who succumbed to sickle cell recently, Cate Kisakye, 62, had decided to take part in the run.

Kisakye's story
When Kisakye gave birth to a baby girl in 1990, she was overwhelmed with joy and named her Maria. As Catholic, Maria the name of the holy mother of Jesus Christ was the best for her new bunch of joy.

Kisakye told New Vision that Maria's birth had given her a third girl after six boys; a feat that culturally assured her of bride price. So as Maria grew up, Kisakye a house wife ensured that she provided whatever was within her means to her daughter.

"When Maria was four-years-old, she looked healthy and attractive," Kisakye recounted. But that was before a strange disease struck and left Maria anaemic in one day.
"After the attack, Maria was diagnosed with sickle cell anaemia and a blood transfusion was conducted," Kisakye recalls, "Unlike other children who are sickle cell sicklers, she had no common symptoms like a protruding stomach and big head."

Although Kisakye was deeply worried about her daughter's new health condition, she said she didn't think Maria had begun a long and painful journey to her grave.

"In the eight years that followed, we were in and out of hospital," she narrated. "Maria never spent a month without undergoing blood transfusion until she succumbed to sickle cell anaemia at 12."

Kisakye said the pain Maria experienced in the joints whenever she suffered a sickle cell attack is something she will never forget.

"The pain would be too much that sometimes she could not standup to walk and would ask me to hold her legs tight," she recalls.

In honour of Maria's memory, when Kisakye heard that Kabaka birthday run was aimed at raising funds to fight Sickle cell anaemia; she thought of giving the run a try. The birthday run is set for Sunday and Vision Group is part of the sponsors.

"I wanted to participate but later I realised that I am old and weak," said the 62 year-old mother of eight. But Kisakye's gloomy experience of nursing a sickle cell child is shared by hundreds of other parents in Ugandan.

For Henry Nsubuga, a father of two, discovering that his first born was a sickle cell sickler came when the baby boy was only three-month-old. "Vienne was struck by a strange disease and in panic we rushed him to a number of hospitals including Mulago, Nagalama, Nsambya and Kawolo before we discovered it was sickle cell," he said.

Nsubuga, a resident of Nama in Mukono district explained that the first time the boy was admitted at Mulago Hospital, he was in critical condition but the machine for testing sickle cell anaemia was down.

"We were told that the blood sample had been taken to Wandegeya for test and when the results delayed yet the boy's condition was deteriorating, we decided to rush him to Nagalama Hospital and finally to Nsambya," he said.

"The boy was diagnosed with sickle cell anaemia at Nsambya hospital," Nsubuga said. "My life with a sickle cell son has been full of downs."

He said that almost every month at first, the boy would suffer an attack which left him anaemic. Nsubuga said at one point he stopped thinking about the expenses he incurred on the boy's medical bills.

"But I have now learnt how to live with it," he said. "The major reason why many sickle cell children die young is that it's very expensive to take care of them."

Nsubuga's wife Doreen Nayiga said some men abandon their wives when they give birth to sickle cell sicklers.

"I have met many women with sickle cell children whose husbands abandoned them as soon as they gave birth to sicklers," Nayiga said.

"But the pain of seeing your child in deep pain whenever there is an attack makes mothers cry endlessly. The other thing is that you spend a lot of money on hospitals bills to save the baby," Nayiga said.

According to Ministry of Healthy, 33,000 babies are born annually with the disease in Uganda of which 80% die before the age of 5 years. It's this killer disease that Buganda Kingdom is gearing in to eliminate.

Other statistics indicate that in Uganda, between 50 and 70 percent of the children born with the disease die before celebrating their 5th birthday, according to the Ministry of Healthy website. In Sub Saharan Africa, statistics indicate that 300,000 children are born annually with sickle cell.

Sicklers can live a full life
But being a sickler is not an automatic ticket to the grave as many people would think. Emmanuel Majala, a sickler has almost lived a full life. At 55-years, Majala is blessed with five children and none of them is a sickler. They are all carriers, Majala said.

Majala told New Vision that his parents realised that he was a sickler when he developed a severe chest pain at the age of six years. To date Majala still gets attacks (painful episodes) but what has kept him going, is learning how to cope, he said.

"Whenever I get a back, chest and joint pain without having strained by doing heavy work, then I suspect I am about to have an attack. I go to hospital and request them to put me on intra venous fluids (drip) to keep him hydrated.

Majala also said that he avoids things that trigger off attacks, for example, he doesn't bathe cold water in the morning.

Information at the Ministry's website indicated that sickle cell can only be controlled through machines that help in diagnosis.

"Once individuals are diagnosed with sickle cells, they can make informed decisions on how to manage their lives," the Ministry says.

How sickle cells is caused
Sickle cell is an inherited change in the structure of red blood cells in which a muted form of haemoglobin (Hb) distorts the red blood cells into a sickle shape.

If both parents have the sickle cell trait at each pregnancy, there is a 25% chance that the child will pick the trait from both parents.

Sarah Kiguli from the department of a Paediatrics in Mulago Hospital noted that, "Up to 100 children are received at the pediatrics department in Mulago every day and many die without the doctors and parents knowing the cause of death being Sickle cells,"

Nsubuga advises young people in relationships to always go for sickle cell tests before marrying and getting children. "Where you discover that both of you are carriers, I advise that you consider calling off the relationship," Nsubuga said.

Kabaka injects birthday proceeds to kick-out sickle cell
After contributing to fighting fistula during last year's Kabaka birthday run, Buganda Kingdom last year announced it would fundraise to fight sickle cells. While launching the fundraising, Dr Ben Kiwanuka Mukwaya, the Buganda Kingdom health minister, said the public had limited information about sickle cell yet it was cheaper to prevent than curing.