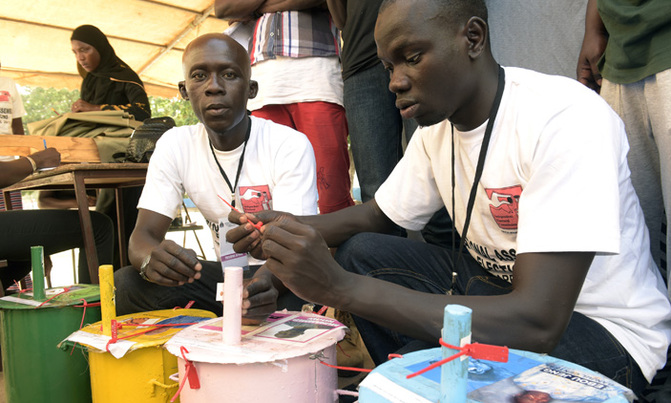 UDP won 31 of the 53 available elected seats in the country's National Assembly, while Jammeh's Alliance for Patriotic Reorientation and Construction (APRC) shrank from 43 elected seats to five.
Electoral officials count marbles used for vote as part of the Gambian election of lawmakers on April 6, 2017 at a polling station in Banjul./ AFP Photo / Seyllou

The Gambia's United Democratic Party (UDP) emerged from decades in opposition in the country's parliament to take its first absolute majority on Friday, as support for former leader Yahya Jammeh's party collapsed.

Official results from Thursday's election, announced by the Independent Electoral Commission (IEC), revealed the UDP won 31 of the 53 available elected seats in the country's National Assembly, while Jammeh's Alliance for Patriotic Reorientation and Construction (APRC) shrank from 43 elected seats to five.

Five more seats are appointed by the president in the chamber to give a total of 58, leaving the UDP with a majority of two.

"The results of these elections attest to the fact that Jammeh has never won an election in this country," UDP leader Ousainou Darboe said, accusing previous electoral commissions of rigging votes in the former leader's favour.

Regarding Barrow's reform agenda, which envisages a massive overhaul of government and the security forces, Darboe said he and the president "are on the same page on virtually everything".

Turnout was low at 42 percent, IEC Chairman Alieu Momar Njie said after reading out the results, saying more civic education was needed to persuade people to come out and vote in legislative polls.

The UDP was one of seven parties who united to propel President Adama Barrow to power in December last year, but that coalition broke apart for the legislative election.

The party has long considered itself a government-in-waiting, and Barrow was UDP treasurer until resigning to become the flagbearer candidate for the coalition.

Lamin Dibba, a senior UDP official and current land minister, said the vote put the party in a strong position to make major changes in The Gambia.

"Our first priority will be to look at the constitution, he said. "We will also ensure that the national assembly will give the nation the power to operate rather than the president," he said, referring to Jammeh's frequent use of executive orders to push through laws.

Although the UDP has a presence in the cabinet, ministers are drawn from all seven coalition parties, meaning the parliamentary win has consolidated its power.

Jammeh's regime imprisoned and intimidated UDP figures throughout his rule, with leader Darboe only recently released from jail after holding a protest against the death of a party member in custody that was deemed illegal.

New era

An expected surge for the Gambia Democratic Congress (GDC), an upstart party which did not join the coalition, failed to materialise, with the youth-led movement gaining just five seats.

"For GDC I am very proud, being the youngest party. We fielded 52 candidates," said Ebrima Nyang, a GDC youth activist and a candidate who failed to win his seat.

"But we were expecting more than this, it was surprising to many," he added.

Smaller parties who joined the coalition took 11 more seats, and one independent candidate took a seat.

The Gambia's National Assembly was long derided for acting as a rubber stamp for Jammeh's decisions, but hopes are high for a revitalised chamber with a raft of fresh faces elected.

Commenting on the low turnout in what was a highly anticipated vote, Joseph Siegle, Director of Research at the Africa Center for Strategic Studies at National Defense University in Washington said the country's path to democracy was never likely to be smooth.

"With memories of the 22 years of the highly personalised and repressive governance style of Yahya Jammeh still very fresh, citizens are wary of vesting too much authority in a single individual. Therefore the lack of enthusiasm may reflect this uncertainty," he told AFP by email.