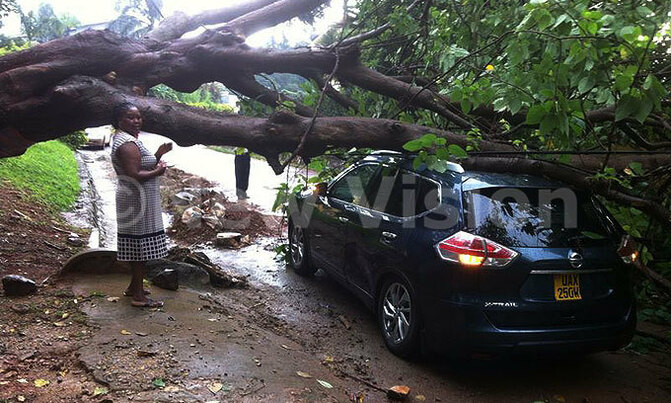 Felled trees, crashed vehicles and flooded sections. Take a look at what Friday's downpour left in its wake.
PIC: This tree nearly crashed to death the occupant of this vehicle. She made out just in time. (Credit: Jimmy Adriko)

Just like in recent days, Kampala yet again woke up to a wet morning. This time though, the early downpour, which in some areas started as early as 3.00am, left a trail of destruction in its wake.

The low-lying areas took a hit, with homes and commercial establishments heavily flooded. The downpour was accompanied by strong winds that felled a number of trees that had long stood the test of time. One notable one is the mahogany tree (mvule) at Kibuye which got a beating and fell right in the middle of the Kampala-Entebbe highway.

As a result, traffic flow was interrupted. Take a look . . .
Traffic from Kampala to Entebbe came to a standstill as the enormous tree blocked the road around Kobil filling station in Kampala.
The degree of destruction clearly showed just how punishing Mother Nature can be. Onlookers were stunned as Kampala Capital City Authority (KCCA) workers joined forces with the Police to remove the fallen tree using a bulldozer. A mobile money booth was flattened by the felled tree.
Many stopped by to watch the early morning clearance that affected flow on the still usually heavy-trafficked highway. Some will see the tree's felling as a huge loss as it has often been used as a reference feature for people meeting around that place. "Find me at the mvule tree. Tell the driver to drop you off here," I once heard someone tell another on phone.
Thanks to the intervention of the authorities, the age-old tree was eventually removed bit by bit to allow for resumption of normal traffic flow. It had inconvenienced travelers that had woken up early destined for Entebbe from Kampala for work.
MEANWHILE . . .
The early morning downpour stretched its tentacles of destruction all over the place. The ripple effect reached Lubaga division in Wankulukuku, Sembuule, where this car was swept away by the waters. Four people were reportedly inside the vehicle and when they realised the tyres were losing traction, it was time was for quick thinking: they swiftly jumped out of the car as it was being swept off. Call it a Houdini stunt!
The mangled car was hauled out of its misery but the damage had long been done. Its occupants will have realised just how lucky they are to have escaped potential death
IN NAGURU . . .
Looks like today's theme was: 'Falling trees and crashed cars'. Unfortunately, it was a case of more destruction in other parts of Kampala. In Naguru, near Machame Restaurant (if you are a regular there), a woman who had just dropped her child to school escaped death when this tree fell right into the middle of the road and crashed her vehicle
"I have driven here for close to 20 years and I was just going to die like that?" she wondered, clearly exuding an air of relief
While the survivor did not want to be named, she was definitely lucky to have escaped under such circumstances.
AND AT NAMASUBA . . .
It was a case of stranding at a place dubbed 'Bata-Bata' in Namasuba along the Kampala-Entebbe highway early Friday morning. The area is low-lying and did bear the brunt of the deluge
While many a farmer will recieve this rain with open arms, many parents and guardians burdened with the extra responsibility of sending their children to school every morning will percieve it as first-hand inconvenience. Luckily for those picked by school buses and coasters, going to school is a much more comfortable experience . . . rain or shine!
These young men were seen putting their shoes back on and rolling the trousers back down after wading through a flooded section to get to the road at Bata-Bata
Around Zzana, still along Kampala-Entebbe, daylight gradually shone more light on the work of nature: a blanket of graphic destruction as intruding felled trees crammed for space with vehicles and pedestrians on the road
SLOW DOWN! A two-lane half of the highway was as a result reduced to one-lane passage at this section. A young schoolboy had to practically walk in the road as he majestically made his way to school. Determination!