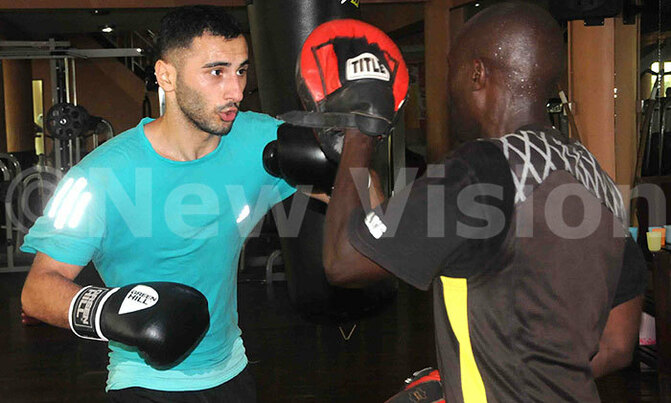 Shahin Adygezalov will fight Tanzanian Amos Mwamakula later this month.
PIC: Russian professional boxer Shahin Adygezalov hits pads with coach Charles Semakalu at the Rays Gym in Kampala. (Credit: Silvano Kibuuka)

KAMPALA - Russian professional boxer Shahin Adygezalov is in Kampala training for a Universal Boxing Organization title against Tanzanian Amos Mwamakula in the Welterweight.

This will be the main fight of the day come April 23 at the New Obligato Pub at Bat Valley near Wandegeya.

The title dubbed 'The Last Man Standing' has been organized by Baltic Pro Box Promotions that has boxers in Uganda, Russia and the Nordic countries, according to proprietor Eddie Bazira.

Shahin, 23, who is being handled by Ugandan coach Charles Semakalu, has a professional record of eight fights - all won by knockout (KO) - since turning professional in 2013.

Undercard fights will see Uganda fighters also come back into the ring. They include Joe Vegas Lubega, Zebra Senyange, Badru Lusambya, Mustapha Katende, Hamza Sempewo, Nicholas Buule and former Bombers captain Rogers Semitala.

"We are still match-making for their fights with foreign opponents for non-title contests," said Bazira.